Category: Letters
Created on Thursday, 07 June 2012 00:57
Last Updated on Thursday, 07 June 2012 08:04
Published Date
Written by Judy Larson DiMario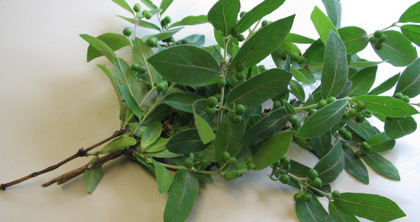 ---
Japanese knotweed is bad, as are other invasives such as purple loosestrife, bishop's/goutweed, but in my opinion, wild bush honeysuckle is the worst. All are extremely invasive, as many people know, but do a little math with the following figures and you'll see why I'm so concerned.
The tiny twigs shown here have 156 berries and each berry can have from two to five seeds. The huge "parent" bush, about 12 feet high, can have up to one million berries! When they ripen to red soon, birds will eat them and poop the seeds everywhere, and they're not so good for birds, either. It doesn't take long before open spaces, woods and roadsides are taken over.
These invasive species which, like others, were brought into this country, often from Asia and Eastern Europe, and sold for gardens, roadsides, etc. They have gradually moved north as the climate has become warmer. When driving down I-87 and the Taconic Parkway in New York state, one would see loosestrife and honeysuckle further north every decade. With no enemies (except us maybe?) they crowd out our native species. A recent Harvard University study named loosestrife one of the invasives causing decline of our Northeast forests, and a 1982 reference book, North American Wildlife, said that wild honeysuckle threatens to "strangle whole forests in the Northeast." That was 30 years ago!
If one doesn't recognize or notice them, they're quiet invaders. Note: The stems, twigs, branches of wild bush honeysuckle have a small, hollow tunnel in the center, different from all other species.
So what do we do? First of all, care, be aware and spread the word. Many people reading this have at least one of these bushes on their property. At this point, the most berries one can remove, one way or another, either by trimming off and bagging twigs and berries, helps in small ways. Be sure to check stems for those little "tunnels." Get kids out with bags and see how many berries they can remove. Remember the amount of seeds each berry contains, and a 20-minute school recess could do wonders if bushes are on the edge of the property – which they often are. Obviously, no seeds in compost but in trash. Also, small baby bushes are easy to pull out.
It would be good if we all watched for those yellowish-white blossoms next spring to get an early, easier start. It would also be good if organizations, garden clubs, scouts, VT Youth Conservation Corps, Highway Departments,... helped out, though I realize this is a very difficult year.
Whatever you can do, imagine that our native woods will thank you.
Judy Larson DiMario
Fayston