Category: News
Created on Thursday, 30 August 2012 10:46
Last Updated on Thursday, 30 August 2012 16:36
Published Date
Written by Lisa Loomis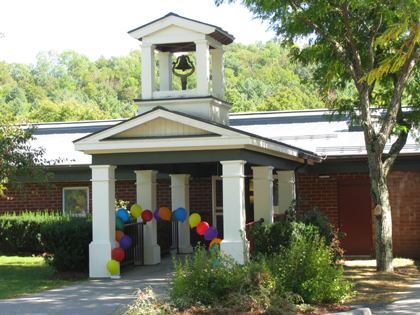 The first day of school in the Washington West Supervisory Union was this week with teachers and staff welcoming students back into five primary schools, two middle schools and one high school.
While students are getting settled into their classrooms and routines, educators will be getting settled and also working on preparing students for the annual NECAP tests that are used to determine whether Vermont and local schools are meeting the requirements of the federal No Child Left Behind (NCLB) act.
Locally the Fayston, Warren, Waitsfield and Moretown Elementary Schools met all the requirements for "Adequate Yearly Progress" in reading, writing, academic indicators and participation.  The state report puts the Duxbury/Waterbury elementary school, Thatcher Brook, in with the Duxbury/Waterbury middle school, Crossett Brook, and did not break down which school had met the requirements and which had not when it noted that the Union School District #45 was in its fourth year of taking corrective action to meet the requirements.
The report notes that the Union #45 school district's reading results for free/reduced lunch students and for students with disabilities was not adequate. It also notes that the district is in its fourth year of corrective action in terms of math with math levels for all students, free/reduced lunch students, students with disabilities and white students not meeting the standards.
At Harwood Union, which is the union high school for all six towns in the Washington West Supervisory Union as well as the middle school for Warren, Waitsfield, Fayston and Moretown, the report finds the school lacking, but does not provide a breakdown in terms of whether the middle school or high school is failing to meet the standards. The report does note that Harwood is in its first year of showing improvements in reading and math, but still did not meet the standards.
Harwood Union was found not to meet the reading and math requirements for all students and white students.
Statewide, 80 schools made "Adequate Yearly Progress" (AYP) and 215 did not, or 73 percent of schools did not make adequate yearly progress.
Adequate Yearly Progress (AYP) determinations are based on the New England Common Assessment Program (NECAP) assessments and the Vermont Alternate Assessment Portfolio (VTAAP) given to Vermont public school students in grades three through eight and grade 11. The NECAP was administered in October 2011. This is the seventh year the NECAP has been given in the elementary and middle grades, and the fifth time it was given to students in grade 11.
 A school makes AYP by meeting targets set by the state as required by NCLB. In Vermont, these targets increase every three years with the goal of 100 percent proficiency by 2014. A school that does not make AYP for two consecutive years in the same indicator enters School Improvement status, which requires schools to take specific actions designed to improve student achievement in the area(s) designated as not making AYP.
The year 2011 marked the final target increase (before the 100 percent proficiency goal) in Vermont. As a consequence, the department of education reported a significant increase in the number of schools that did not make AYP. One-hundred and ninety eight Vermont schools are identified for school improvement in one or more areas. One hundred and one of those are new schools entering their first year of school improvement. Additionally, 23 schools did not make AYP for the first time. There are no formal consequences for those schools.