Category: News
Created on Thursday, 20 September 2012 11:11
Last Updated on Thursday, 20 September 2012 13:59
Published Date
Written by Lisa Loomis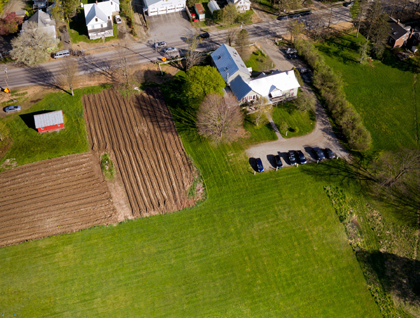 As Waitsfield considers whether to act on the option it has to purchase the Flemer barns at the south end of the town-owned polo field, the town is seeking public comment and input on possible future uses of that property.
The town will hold a public hearing on September 26 at the town offices at 7 p.m. to discuss the barns and the future land acquisition. Waitsfield has negotiated purchase options on two parcels of land owned by the Flemer family in Waitsfield Village, one of which is slated for the town's new town offices and the other which the select board feels is a cornerstone piece of property that the town may want to develop via a public private partnership in the future.
In June the town select board, at the recommendation of the Waitsfield Town Office Task Force, voted to purchase a one-year option on two parcels of Flemer land.
The two parcels include a one-acre parcel known as the farmstand parcel which will be earmarked for the town offices. For that parcel the town will negotiate an option for no more than $2500, for one year, which will go towards the purchase price of $100,000 when the town moves forward with building town offices on the property. That project would require voter approval of a bond vote for the land and the construction costs. Money for that option will come from funds already set aside by town voters for new town offices.
The second parcel, known as the barns parcel, is 4.75 acres and includes two barns. The board voted to negotiate a purchase option on the piece for a price not to exceed $3500, for one year, which will go towards the $250,000 purchase price of that land when the town decides to pursue it. Money for that option will come from funds already set aside in the town's recreation, conservation and restroom fund.
According to members of the Town Office Task Force, citizens recognized that there is tremendous potential for use of the other site and the barns.
"We would like your input. For what purpose do you see the barns being used? Should the barns and surrounding property be used for mixed functions such as housing and/or offices? Should it be used for a community center, learning facility, function hall, or other uses? How can use of the site and barns enhance historic Waitsfield Village? Are citizens interested in serving on a new Flemer Barns Task Force to continue to explore the options, solicit public input, and make a recommendation to the select board," asked task force member Charlie Hosford.
Those who are unable to attend the September 26 meeting are asked to email thoughts, concerns and ideas to This email address is being protected from spambots. You need JavaScript enabled to view it..