Category: News
Created on Thursday, 04 October 2012 10:01
Last Updated on Thursday, 04 October 2012 10:01
Published Date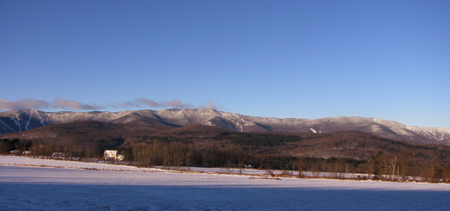 Sugarbush Resort and Mad River Glen are hosting a joint press conference to coincide with Sugarbush's Community Day and Mad River Glen's Green and Gold Weekend, both slated for this weekend.
The press conference comes on the heels of the two ski areas' announcement that they are partnering to offer joint season passes for the first time in their 54-year history.
The two resorts have teamed up to offer a joint ski pass good for Lincoln Peak, Mount Ellen and Mad River Glen. The two resorts have also teamed up on a "Ski the Valley PLUS" lift ticket that is good for all three mountains.
Sugarbush Resort president and owner Win Smith, Sugarbush VP of marketing Candice White, Mad River Glen general manager Jamey Wimble and Mad River Glen director of marketing Eric Friedman will participate in the press conference.
The joint press conference takes place on Saturday, October 6, at 9 a.m. at Sugarbush and during the Mad River Glen annual co-op shareholders' town meeting that afternoon at 5 p.m. At that meeting, Mad River Glen co-op shareholders and the public will have a chance to preview architectural renderings for a new base area master plan.
In 1958, a decade after Mad River Glen first cranked up its Single Chair, Damon Gadd decided to start a new ski area a few miles down the ridge. He needed local know-how so he took on Mad River Glen's general manager, Jack Murphy, as a partner in the new venture. Rumor has it that the negotiations actually took place in the Mad River Glen Basebox Lodge.
The new ski area was called Sugarbush Valley and the folks at Mad River were not too thrilled about their general manager being pilfered from them and having a competitor encroaching on their territory, according to local lore.
The situation was further muddled five years later when Walt Elliot opened Glen Ellen (now Sugarbush's Mount Ellen) along the same ridge right in between Mad River and Sugarbush (Sugarbush merged with Glen Ellen in 1979). The Mad River Valley had three ski areas all within a few miles along the spine of the Green Mountains. But over the years the Mad River Valley's potentially distinct marketing advantage was never taken advantage of and what ensued instead was a decades-long, oftentimes tense, adversarial and competitive relationship, explained Sugarbush spokesperson Patrick Brown.
Mad River Glen and Sugarbush have now come to a historic détente and are now working together on several fronts to promote The Valley.