Category: News
Created on Thursday, 11 October 2012 10:06
Last Updated on Thursday, 11 October 2012 10:06
Published Date
Written by Rachel Goff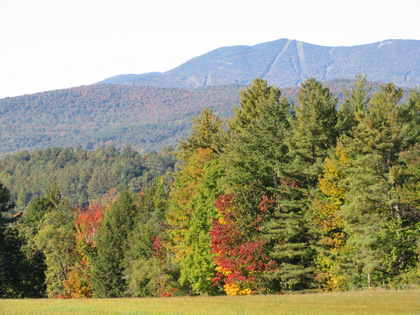 Rainy weather can make fall foliage colors pop, and the gray skies that graced The Valley this past Columbus Day weekend did little to deter the tourists who came to take photos of the trees' vibrant red, orange and yellow leaves.
"Columbus Day is one of our busiest days of the year," Bruce Hyde, owner of the Hyde Away Inn & Restaurant in Fayston, said, and this past weekend the inn was completely booked all three nights.
"I think the difference [in tourism] between this year and last year is that rooms filled up faster," director of the Mad River Valley Chamber of Commerce Susan Klein said, suggesting that while damages sustained after Tropical Storm Irene could have interfered with out-of-towners' plans to visit last October, The Valley has since come so far in its rebuilding efforts.
This year, "We were open over the weekend and we had pretty steady foot traffic," Klein said of the Chamber's visitor center on Route 100 in Waitsfield. "And just driving through town it seemed pretty busy."
Indeed, "we had a good weekend," Lorien Wroten, co-owner of The Common Man Restaurant in Warren, reported, and at Akes' Den in Waitsfield, "it was a crazy, crazy couple of days," head chef Jamie Nelson said, as the restaurant stayed packed through Monday.
"We definitely crushed all records," Nelson said, and hopefully this fall success story is an indicator of the winter season still yet to come.