Category: News
Created on Thursday, 18 October 2012 13:06
Last Updated on Thursday, 25 October 2012 14:47
Published Date
Written by Rachel Goff
The Dalai Lama and Senator Patrick Leahy sat on a couch, smiling and holding hands.
This is not the beginning of a "man walks into a bar" spinoff joke but the start of last Saturday morning at MiddleburyCollege, where the Dalai Lama spoke to a sold-out crowd about the concept of interdependency and how it informs altruism and greed in today's society.
When Leahy stood up to introduce the Dalai Lama, he spoke about His Holiness' role as spiritual leader of Tibet and diplomatic leader in international peace talks. "But here, we think of him as a friend," Leahy said.
And indeed, in the talk that followed, the 77-year-old Nobel Peace Prize winner demonstrated a level of comfort and informality often associated with old friends or family. "You are my brothers and sisters," the Dalai Lama said, addressing an audience of over 2,000 people.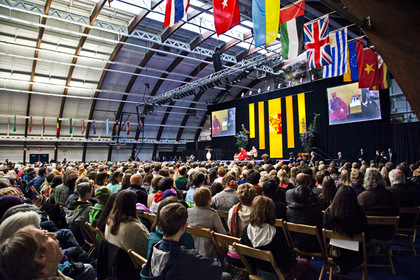 This was the Dalai Lama's third visit to Middlebury, as he'd participated in symposiums at the college in 1984 and 1990. On Saturday, October 13, the Dalai Lama addressed a mostly public audience in a talk titled "Finding Common Ground: Ethics for a Whole World."
The Dalai Lama opened his talk by calling the audience's attention to those basic characteristics that all people share. "We are same human being," the Dalai Lama said, "physically, mentally, emotionally."
It sounds so simple, and because of this, it's so easy to forget. In today's society, "we emphasize the importance of differences," the Dalai Lama said. There is a "lack of holistic view," he said, in broken English, explaining the reason for widespread inequality and suffering.
Very rarely did the Dalai Lama make explicit references to the plight of people in his Chinese-occupied homeland. Instead, he used universal anecdotes to illustrate his points, telling a story of a bald car mechanic who hits his head repeatedly on the underside of an engine when he becomes frustrated while trying to fix it.
"What use?" the Dalai Lama asked, explaining that the mechanic is only making more pain for himself and is no closer to fixing the problem. "Car don't have pain," he said with a chuckle.
Instead, to begin to fix our problems, "must look from greater distance, then [we] get better picture," the Dalai Lama said.
And then, we must talk. "This concept of war is outdated," the Dalai Lama said. "This century should be the century of dialogue."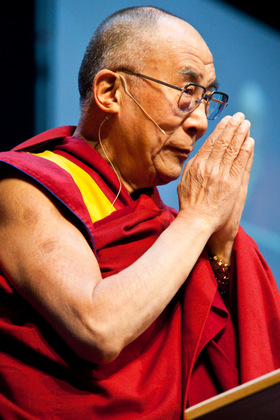 In a question-and-answer session that followed his talk, one audience member submitted a question asking if the Dalai Lama had a secret that made his smile so infectious.
"If it's a secret, then maybe I should keep it," the Dalai Lama responded (with an infectious smile).
The Dalai Lama is not giving away all of the answers. He doesn't have all of the answers. But he does have something special that makes Westerners wonder whether they should re-evaluate their way of thinking.