Category: News
Created on Thursday, 01 November 2012 11:32
Last Updated on Thursday, 01 November 2012 11:47
Published Date
Written by VR
Don't forget to vote! 
On Tuesday, November 6, Valley residents can cast their ballots from 7 a.m. to 7 p.m. at the following locations for each town:
Warren

Warren Elementary School

293 School Road

Warren, VT

Fayston

Fayston Town Office

866 North Fayston Road

Fayston, VT

Waitsfield

Waitsfield Elementary School

3591 Main Street

Waitsfield, VT

Moretown

Moretown Elementary School

940 Route 100B

Moretown, VT

Duxbury

Crossett Brook Middle School

5762 Route 100, Waterbury, VT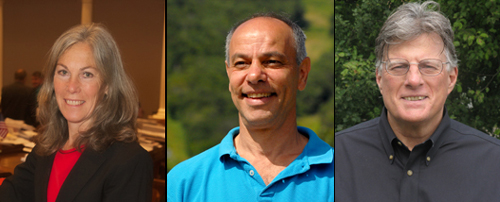 Below are three articles with information on the local candidates running for the two open positions in the newly created Washington-7 District for the Vermont House of Representatives. Articles are organized by date of their printing.
September 27, 2012
Grad, Greshin, Spinosa discuss process, campaigns and leadership
By Lisa Loomis
In November, voters in The Valley will elect two representatives to the newly created Washington 7 District of the Vermont Legislature.
The new district includes Waitsfield, Warren, Fayston, Duxbury and Moretown. Running for the two seats are two incumbent reps – Maxine Grad, D-Moretown, and Adam Greshin, I-Warren – along with challenger Sal Spinosa, I-Waitsfield.
The new Washington 7 District includes the former district of Warren, Waitsfield and Fayston (which Greshin represented) and Moretown from a district of that used to include Moretown, Roxbury and Northfield (in which Grad was one of two reps) plus the town of Duxbury, which had been with Waterbury in a two-member district.
As part of its coverage of this year's election, candidates are providing written answers to prepared questions in the months leading up to the election on November 6. Additionally, The Valley Reporter and Mad River Valley Television will present a candidates' forum at The Big Picture in Waitsfield on October 23 at 7 p.m.
Valley voters are encouraged to email questions for the candidates, to be answered in The Valley Reporter and at the October forum, to This email address is being protected from spambots. You need JavaScript enabled to view it..
The Valley Reporter: Discuss a leadership initiative you led that had challenges where you did not reach your full intended outcome? How did you address these challenges?
Grad: I sponsored a highway safety bill with a cellphone ban for junior operators, hands-free for adults, nighttime curfew for junior operators, and primary seatbelt law. The bill passed the House with strong support. The Senate opposed it. In conference committee, the Senate agreed to little and proposed to weaken existing law. My challenge was: Get something that year or wait until the second year of the session? I could not agree to weaken existing teen protections. I waited for the following year, introduced a ban on texting while driving that passed the House and Senate.
In conference committee, we agreed on a cellphone ban and primary seatbelt for junior operators and the texting ban. This experience taught me to know when to declare victory, the process is incremental and building coalitions is key. I am thrilled to have added highway protections, especially for teens. I will re-introduce the other measures.
Greshin: Last session I submitted legislation to help protect seniors from unscrupulous door-to-door and phone solicitations. The bill proved popular with seniors and the attorney general's office but, to my amazement, opposition arose from every major organization representing seniors. They were worried about the implications of giving special treatment to one segment of the population. Less surprising, the direct sales industry also voiced reluctance to revise established practices (despite the fact that they had already done so in two other states). Rather than debate the bill in committee, I decided to work with the attorney general's office, gather the relevant players together and try and come to a consensus. The effort is ongoing but it demonstrates that a good idea occasionally needs time to germinate.
Spinosa: The May 2011 storm event not only destroyed numerous town roads and private drives but also exposed recently buried piping for the municipal water system. As the assigned emergency incident commander for this event, I immediately convened a meeting of town officials and employees to assess the situation and consider options.
While some decisions were obvious, we struggled to identify a funding source for the needed work. Because there was no budget for this unforeseen event, the initial discussion identified FEMA to defray restoration costs. Those familiar with FEMA made it quite clear that a FEMA financial response would require time.
Because restoration was imperative, I knew that we could not wait for financial help. We concurred in the decision to open an immediate line of credit and make emergency assignments of work to our road crew, on-site water project contractors and other local contractors. Restoration first, FEMA later!
The Valley Reporter: If you could make one improvement in state government, what would it be?
Grad: A vital role of state government is to protect its citizens. How to best provide law enforcement services is an on-going discussion in my committee, House Judiciary. Community protection was of concern after Irene and continues as the "meat truck" and other break-ins continue. This new district highlights the need to continue the discussion. Tourism puts extra demands on public safety. Our small businesses, drivers, and youth are more vulnerable. There is increased EMS demand.
Constituents report that other law enforcement services are compromised such as investigation of child abuse cases. Many of you expressed concern about the growing opiate problem and speeding on roads. While I think law enforcement does a good job, I want to continue the conversation involving a diverse group of stakeholders including community members and leaders, law enforcement, the business community and victims' advocates. I would like to consider the "outpost" system, regionalization and local coordination.
Greshin: One lesson I learned from our state's response to Tropical Storm Irene is state government can move at warp speed when necessary. Let's take some of that "get it done" mentality and make it the new normal. Part of the accelerated pace of storm recovery came from punishing work days and difficult work conditions. We can't expect nor encourage that to continue. But success was also due to revised procedures and quickened decision making. Bridges were rebuilt in weeks, not months; permits were issued in days, not weeks. (Contrast the state's response with that of the federal government's. We're still waiting on FEMA.) There's no reason why some or all of the wait time can't be reduced or eliminated. It's not a question of manpower but it is a question of procedure. Let's take a lesson from Irene and deliver customer service without the wait.
Spinosa: Maybe unlike some people I am not a severe critic of state government. Having worked for many years in Vermont state government I can attest to the quality and dedication of the people who make state government work.
Not surprisingly the improvement I would suggest is an environmental one. Without exception every facet of state government should be trained in and required to comply with the state's environmental laws, regulations and other standards. In its simplest form, state government should abide by the same environmental principles applicable to other institutions, private enterprise, municipalities and individuals within the state. Anything less suggests an insoluble hypocrisy.
The Valley Reporter: As a legislator how do you reconcile these three principles: 1) personal integrity; 2) the representation of a constituency; and 3) the need to achieve legislative progress?
Grad: By keeping my constituents informed, listening to their concerns, having conversations with them, being honest about my position on issues, and trying to reach consensus when possible. Most often, there is not a need to reconcile these principles. Much of my work is in committee. I keep my constituents informed through various means of communication. This helps me understand their thinking and experience to bring to the committee conversation.
Also, as a committee, we try to vote a bill out with as much nonpartisan committee support as possible. A bill coming out of committee with strong support of its members is more likely to be successful and reflect constituents' views.
In my 12 years as a legislator, there has been very few times where a vote was based on a core value or matter of conscience. I addressed these times through honesty and no surprises. These are key to good representation.
Greshin: Every legislator arrives at the State House with a set of goals driven by his or her best judgment and the needs and wants of the legislator's constituency. Progress towards these goals requires relationships built on trust and integrity. In this regard, personal integrity and representation of a constituency are mutually reinforcing. But progress usually requires compromise. With 150 representatives and 150 constituencies, virtually no initiative sails through unscathed. I've had the awkward experience of being a sponsor of a bill that I ultimately tried vigorously (and successfully) to kill because the end product was worse than the problem I was trying to solve. Progress is good, but only if it does not force you to go back on promises and core principles. Personal integrity is everything in the State House and no initiative is too important to compromise that.
Spinosa: These three concepts are essential to a sound legislative model. And yet, they occasionally seem to conflict with one another and with the legislative process .
I believe that the best legislators bring forth views shaped by their standards of integrity. Those views, however, may not align perfectly with the prevailing voice of a public constituency. Add to that the compromise usually required to make legislative progress and you now have a brew of ingredients, each of which should contribute to a final position.
To reconcile these principles I believe a legislator should foremost attempt to reflect the views of his/her constituency but do so without abdicating personal integrity. The final step, toughest of all, is to incorporate into that blend purposeful compromise that does not critically undermine either of the other elements. For me this seems to be ultimate reconciliation and challenge for a legislator.
The Valley Reporter: As you campaign, what issues are you hearing about most frequently from voters?
Grad: The condition of the roads, especially between Waitsfield and Warren, lack of public transportation, speeding, police coverage, and the Waitsfield water issue.
Greshin: I've listened to many different issues over the past several months, but many of them are a variant of the same theme: affordability. Our area is experiencing a widening gap between the cost of living and the earnings to pay that cost. Some people are upset with rising taxes, others are alarmed by escalating fuel and energy prices, still others are struggling to buy good food. Retirees are hit with lower earnings on savings and higher expenses. It's not so much the cost of living that is the problem; it's the lack of sufficient economic opportunities to offset that cost. Boston may be an expensive city to live in, but it has a job market to match. Vermont has high costs, but we don't share the resources of other locations. Before we launch initiatives that carry a price tag, we should ensure we have the resources to pay the bill.
Spinosa: For the most part the folks I have encountered are listening to my greeting and limited introductory remarks. While some lengthy discussions have ensued, for the most part I may get a brief interaction over a point or two of interest.
There are two recurrent topics. The first is a concern over property tax pressures that create real financial hardships and threaten folks' ability to remain in their homes. The second is an unfortunate claim that elected officials often do not follow through on their promises.
Fortunately, the comments and questions are candid and sincere and collectively suggest a common desire for measurable, beneficial progress on all issues.
October 04, 2012
Over coffee, Greshin, Grad and Spinosa discuss campaign platforms
By Rachel Goff
On Wednesday, October 3, the Mad River Rotary Club invited the candidates running for representative seats in the newly created Washington 7 District of the Vermont Legislature to speak at its morning meeting.
The three candidates currently campaigning for the district's two open seats are Maxine Grad (D-Moretown), Adam Greshin (I-Warren) and Sal Spinosa (I-Waitsfield). Both Grad and Greshin have currently served in the Legislature under different districts, before the towns were regrouped and Warren, Fayston, Waitsfield, Moretown and Duxbury became known as Washington 7. This is Spinosa's first time running for district representative.
Before they took turns to respond to questions from the audience, the candidates each had 10 minutes to introduce themselves.
Greshin, who spoke first, outlined three "core values" that he believes have helped him through his last legislative term: valuing communication, building credibility at the State House and maintaining a "passion for public policy" that helps him to persevere through meticulous lawmaking sessions.
Grad, who spoke next, referenced several specific laws she helped pass during her time on the Judiciary Committee that reflect those issues she feels are most important, such as a highway safety bill that includes a cellphone ban and curfew for new drivers, "because I know what it's like to be a parent of a 16-year-old who just got their license," Grad said. If re-elected, Grad will also continue to prioritize childcare and elementary education, health care and energy policies.
And Spinosa, who spoke last, explained how his experience working as a trial lawyer in the public sector in California and as head of the enforcement division for the Vermont Agency of Natural Resources (ANR) have prepared him for a position in the state Legislature. According to Spinosa, issues relating to sexual assault, welfare fraud and environmental consumer protection "are all issues on which I can be immediately conversational when I walk through the doors [of the State House] on my first day," he said.
When asked about their positions on certain issues in the question-answer section that followed, all three candidates more or less agreed that Act 60, which seeks to increase equal educational opportunities between rich and poor towns regardless of their property tax revenue, is an important initiative but needs to be reworked. The problem, according to Greshin and Grad, is not where the money is coming from but how the schools are spending it.
When asked about their positions on physician-assisted suicide for patients with terminal illnesses (an issue that arose in the state's last bill), again, all candidates said that they support the premise. "It's a worthy discussion," Spinosa said, and he believes the bill could pass despite the "massive range of moral and ethical considerations that it raises."
Candidates were asked what they felt was the most important state issue, and why?
From the conversations he's had with voters during his campaign, Greshin believes that one of the most important issues is that of "affordability," as many people who have lived in Vermont their entire lives are currently having trouble keeping up with the state's increasingly high cost of living. "Every debate and decision we have has to be filtered through the prism of affordability," Greshin said.
For Grad, the most important state issue right now is health care, which "is one way to help affordability," Grad said, as many Vermonters are currently paying too much for coverage. Thus, Grad plans to focus on developing a state health care system that is "accessible, affordable and provides quality care."
Spinosa believes that the development of alternative power is the most important issue currently facing the state, because it will affect a number of different arenas. "If we make an institutional commitment [to alternative power], we will see all other things mentioned here today fall into place," Spinosa said.
October 25, 2012
Lively interchange at candidates' forum
By Rachel Goff
From front-page stories and prime-time debates to leaked videos and Tumblr memes, with all the media coverage surrounding the national elections, it can be easy for local politics to fly under the radar.
On Tuesday, October 23, The Valley Reporter hosted a forum at the Big Picture Theater in Waitsfield for Valley residents to familiarize themselves with the candidates running to represent them—Washington District 7—in the Vermont State Legislature.
The three candidates currently campaigning for the district's two open seats are Maxine Grad (D-Moretown), Adam Greshin (I-Warren) and Sal Spinosa (I-Waitsfield). Both Grad and Greshin have currently served in the Legislature under different districts, before the towns were regrouped and Warren, Fayston, Waitsfield, Moretown and Duxbury became known as Washington 7. This will be Spinosa's first time running for district representative.
Valley Reporter editor Lisa Loomis moderated the forum in which each candidate had 60 seconds to respond to questions from both Loomis and audience members on issues ranging from rebuilding the Waterbury office complex to restructuring the state's health care system.
Read on, for an abridged account of what the candidates had to say about their personal approach to politics, as well as their stance on specific issues facing The Valley and the state of Vermont.
Question: Why have you chosen your party affiliation (or lack thereof)?
"I support a government that helps people—that helps our most vulnerable," Grad said, explaining that she's running as a Democrat because she believes liberal governments give people the tools they need in order to thrive.
"I chose not to be defined by a political party," Greshin said, explaining that he's running as an Independent because he wants his policies and actions to speak for him.
Spinosa, who's also running as an Independent, described himself as a "centrist," saying that he hopes his balanced approach can help end bipartisan gridlock.
Question: Where do you see The Valley in 10 to 20 years, in terms of growth (commerce, tourism, etc.)?
Grad believes in sustainable development that respects a town's historic integrity and doesn't create sprawl. She also hopes to see the ski areas develop more year-round activities, so The Valley is more than just a winter destination.
Greshin wants to focus The Valley's downtown areas, and he hopes to create "walking, non-car based" town centers.
Spinosa thinks it's important to consider not only downtown growth but agricultural growth as well, and he will look to support local farms.
Question: Should the state be working to get displaced workers back into the Waterbury office complex and former Vermont State Hospital that was destroyed due to flooding from Tropical Storm Irene?
"Yes," Greshin said. "There are people who have built their lives around [those buildings]." But he noted that it's something the state has to consider financially.
"There are pros and cons," Spinosa said. "Many parts are still habitable, but it's an old building…. I'm worried about health hazards."
"I do support rebuilding," Grad said. "We are on track to return approximately 900 workers to the complex."
Question: But, could the Waterbury town offices also be considered for some other use (recreation or cultural center, etc.)?
"My only limitation is health concerns," Spinosa said.
"I think we need to take care of our workers [first]," Grad said. "I do support the arts," she explained, but she thinks we need to prioritize improving the state's hospital situation.
Greshin would love to see the space used "as a business incubator…. I think it's a great idea," he said. He outlined the enormous potential of Waterbury's location and resources, going so far as to mention the (far-fetched?) possibility of the town as a site for the Winter Olympic Games.
Question: The state's long-term plan is for a single-payer health care system similar to Medicaid/Medicare. Do you see this as an economic boon or inhibitor? Do you think health care should be decoupled from employment, and if so, how?
The state "has a direction now," Spinosa said, referring to Shumlin's single-payer plan. "I want to give [Shumlin] a chance to put this in play."
The single-payer plan "will be an economic boon," Grad said, explaining how businesses will have the opportunity to grow if they don't have to worry about paying health care premiums. Grad believes that health care should be decoupled from employment, because "there are so many people who are tied to jobs that aren't necessarily good for them because of health care," she said. "And in some cases it's not even good health care."
Greshin supports "health care reform," he said, and he thinks the state can harness savings from eliminating administrative costs.
Question: What strategies would you support to help reduce the causes and effects of climate change in the Mad River Valley and in Vermont?
According to Grad, one of the things the state really needs to look into is increasing public transportation. In terms of policy, "we really do need a statewide plan [to address climate change]," she said.
Greshin thinks the state needs to boost its renewable energy sector, as well encourage better weatherization techniques and public transportation options.
To find and develop alternative energy sources, "we need to have all hands on deck," Spinosa said. He also thinks we need to impose building restrictions in flood plains and stream bank management systems.
Question: Do you support the construction of commercial wind installations on ridgelines, and should The Valley's ridgelines be viewed holistically when considering this energy source, or on a town-by-town basis (as is the state's current practice)?
Greshin opposes commercial wind installations on ridgelines, overall. "I support a moratorium on them," he said.
Spinosa was one of the members of the Waitsfield Select Board that drafted a provision prohibiting commercial wind installations on ridgelines, and he thinks that every town should do the same.
Grad thinks that town provisions are important but that we really need to consider the effectiveness of the energy source on not only a state but a national level. Grad thinks that commercial wind installations "need to be part of the equation," she said, but because of their many limitations the state may end up with a "de facto moratorium" on their construction.
Question: What would you do to protect and improve the water quality in Vermont's rivers and lakes?
The state oversees the implementation of the Clean Water Act, Greshin explained, and the problem is, it doesn't currently have the resources to adequately address all problems.
Spinosa thinks the state needs to do further research before it can begin to fix water quality programs.
Grad thinks that the decline in water quality is a problem, and to fix it she thinks the state needs to look into managing stormwater and agricultural runoff.
Question: What are your thoughts on the education funding system outlined by Act 60/68? What measures would you support to simplify the current system and contain school costs?
While it is progressive, the state's education funding system "is not the most cost-effective," Spinosa said. "Maybe we need to start looking at another model."
Grad is not sure how cost-effective the model is, "but I'm not ready to scrap it yet," she said. In reforming the model, she will "make sure to preserve the fund and its income sensitivity," she said.
Greshin supports reforming the education funding system, explaining that the problem with Act 60 is that "decisions don't necessarily have tax consequences."
Question: In providing towns with equal education funding, Act 60 is supposed to create more parity in terms of education quality. Do you think, according to standardized test results, that this plan is working?
Standardized tests "should really be just one part of the equation," Grad said, explaining the problem with a "one size fits all" approach to education.
"It's hard to say how funding affects a school's quality," Greshin said, stressing that the state needs to focus on improving the quality of education instead of just increasing school funding.
"No one can say whether progress is because of Act 60 or in spite of it," Spinosa said.
Question: What has been your most interesting or unusual campaign experience?
While going door to door, both Greshin and Grad were bitten by wild turkeys.
Fowl politics? The voters will decide when they vote for Washington District 7 representatives to the state Legislature on Tuesday, November 6.
The forum was filmed by Mad River Valley TV and will be aired on the local public access station by the end of this week. Check the MRVTV website for details mrvtv.com.