Category: News
Created on Thursday, 20 June 2013 11:11
Last Updated on Friday, 21 June 2013 09:34
Published Date
Written by VR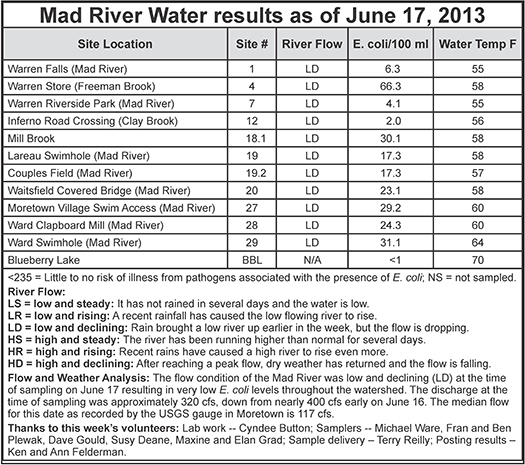 The first sampling date of the Friends of the Mad River's 2013 Mad River Watch season was Monday, June 17. Results from sampling show that E. coli levels at the 36 sites throughout the watershed were universally low. There were no samples that were above the state standard of 235 colonies/100mL. E. coli is an indicator of fecal contamination and elevated levels of E. coli in recreational water is associated with an increased risk of illness.
The water levels at the time of sampling were low and declining at 330 cubic feet per second (cfs) as measured at the USGS gauge in Moretown; median flow value for this date is 117 cfs. The low results may be explained by the continuous rain and flushing of pollution from the land we have experienced this spring. Also, when the flow of the river declines after a rain, the contaminant levels also decline.
Results are posted at local swim holes and a complete listing can be found online at www.FriendsoftheMadRiver.org.
Many thanks to our volunteers for their continued hard work!