Category: News
Created on Thursday, 11 July 2013 13:53
Last Updated on Thursday, 11 July 2013 13:53
Published Date
Written by Rachel Goff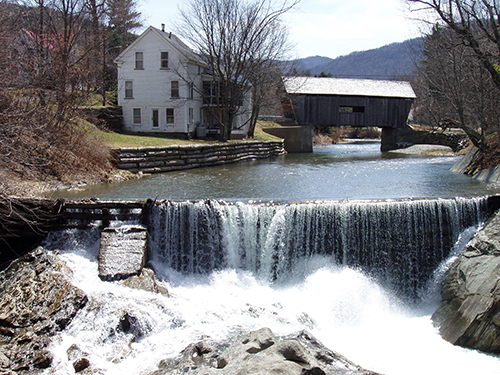 For years, the Warren Village Dam Preservation Trust has been trying—to no avail—to get a permit to repair the village's historic timber crib dam. Now, "we're at the point where we're going to give up," Mac Rood told the Warren Select Board at their meeting on Tuesday, July 9.
Once an integral part of a bustling mill town, the 200-year-old dam has started to deteriorate. In order to repair it, the Warren Village Dam Preservation Trust would need to secure a stream alteration permit from the Vermont Agency of Natural Resources (ANR), and "we've been told on no uncertain terms that we're never going to get it," Rood said.
According to Rood, the ANR is not interested in preserving non-operational structures that affect a river's natural state. While this makes sense from an environmental standpoint, the select board worried that the deteriorating dam could become a liability to the town. Already, there's a hole in the middle of the dam that would act "like a strainer" for swimmers and boaters, select board chair Andy Cunningham said.
"They [the ANR] should take on the liability," select board member Matt Groom said. And it appears that's what they'll do.
As it disbands, the Warren Village Dam Preservation Trust is looking to pass on its easement on the dam. On Tuesday, it offered the easement to the select board, which declined to accept it. Rather than a right of way, "this easement is attached to this dam," select board member Bob Ackland said.
"I don't see anything here that we want or need," Groom said, reading the conditions.
Instead, the preservation trust plans to give the easement to the ANR, so that they are held responsible for any effects their decision not to issue a permit may have. "It's unfortunate," select board member Anson Montgomery said in closing. "I would love to have a project that was positive."