Category: News
Created on Thursday, 22 August 2013 12:06
Last Updated on Thursday, 22 August 2013 12:06
Published Date
Written by Lisa Loomis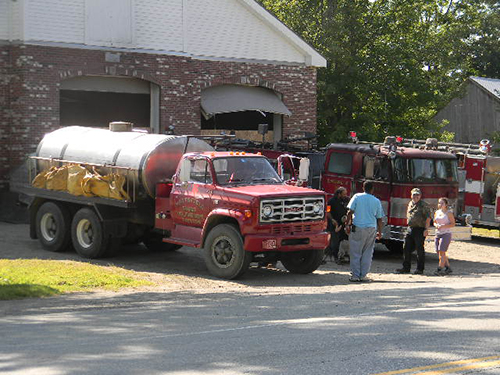 Waitsfield-Fayston Volunteer Fire Department has loaned its 1982 fire truck to Albany Volunteer Fire Department which suffered a total loss of its equipment in an arson fire on August 11.
Waitsfield-Fayston Fire Chief Bub Burbank and Assistant Fire Chief Paul Hartshorn delivered the truck to Albany (north of Newport) on August 16.
Burbank said that the local fire department had just picked up a new 2014 tanker and had the 1982 tanker sitting at the department.
"We were going to put it out to bid, but Paul and I got to talking with one of the selectmen and when we heard they were looking for a tanker, Paul said, 'Let's do it,' so we did," Burbank said.
"That's the most mileage that truck has seen in one shot," he added. Albany is about two to three hours from Waitsfield. Hartshorn drove the truck to Albany with Burbank following in his truck.
Albany Volunteer Fire Department lost all of its equipment in a fire that occurred almost two weeks ago. An arsonist set a fire truck on fire, which led to all of the equipment in the fire station burning.
The local fire department is not alone in donating equipment. Fire departments from around the state and as far away as New York City and Maine have been donating equipment and supplies to Albany Volunteer Fire Department.
Police have reported that it was a firefighter, James Joerg, 45, with Albany Volunteer Fire Department who has been charged with starting the blaze.
–LAL