Category: News
Created on Thursday, 26 September 2013 10:43
Last Updated on Thursday, 26 September 2013 10:44
Published Date
Written by VR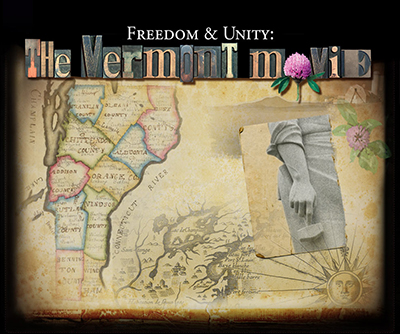 Freedom & Unity: The Vermont Movie is the first-ever documentary series about Vermont. The six-part film is a collaboration of three dozen Vermont filmmakers, including Dorothy Todd of Warren. The documentary has been seven years in the making.
The first part of the six-part film series opens this weekend on Friday, September 27, at Barre Opera House. There is a gala a reception at 6 p.m., followed by Part 1 of the documentary at 7:30 p.m. Part 2 will be shown on Saturday, September 28, at 10:30 a.m. at the Vermont Historical Society at 60 Washington Street in Barre.
Since declaring its own independence in 1777, Vermont has been a beacon, a haven, a refuge, an idea, a symbol, a state shaped by independent and courageous decision-makers, thinkers, political leaders, workers, artists, immigrants and innovators. It was the first state to outlaw slavery, to allow same-sex civil unions, to call for the impeachment of President Nixon and to protect the environment with Act 250. This is a state in which conservatives and liberals are not only neighbors—they frequently depend on each other for survival.
And yet, as one sees in town meetings and legislative debates, the pursuit of freedom has, on occasion, threatened the state's unity. Civil liberties, civil rights and civil unions have divided neighbors; land use, development and energy policies raise difficult questions; forgotten chapters in the state's history demand explanations generations later. In Freedom & Unity: The Vermont Movie, filmmakers and historians set out to understand Vermont's iconoclastic spirit: where it comes from, how it shapes the present and how it lays the groundwork for the future.
The film is thematic, not chronological. Part One, "A Very New Idea," Part Two, "Under the Surface," Part Three, "Refuge, Reinvention, and Revolution, Part Four, "Doers and Shapers," Part Five, "Ceres' Children," and Part Six, "People's Power," explore themes in the state's history that recur and circle back, from 1777 to the present.
Freedom & Unity: The Vermont Movie Barnstorming Tour (September 29 to December 4, 2013) features screenings in 11 Vermont counties. To find a screening go to www.thevermontmovie.com; click on Screenings, and download the tour schedule. All screenings will include Q&A sessions with Vermont movie filmmakers and others.