Category: News
Created on Thursday, 26 September 2013 11:47
Last Updated on Thursday, 26 September 2013 12:17
Published Date
Written by VR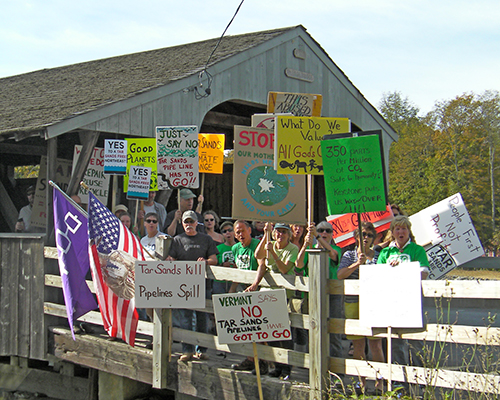 Last Saturday morning's Draw the Line protest march made a favorable impression on the majority of passing motorists and attendees at the Waitsfield Farmers' Market. Smiles, honking car horns and thumbs-up signals greeted the 35 marchers carrying colorful signs with messages pronouncing their desire to create a cleaner world. Armed with their signs and a 25- foot-long, dirty black "oil spill" that trailed behind them, the group wound its way from Waitsfield's covered bridge, south on Route 100 to Slow Road where it circled TDBank, moved on through Mad River Green Shopping Center and ended after traversing the Farmers' Market from south to north. TDBank received extra attention for its extremely heavy investment in the tar sands industry. Drivers on Route 100 south of Waitsfield Village may also have noticed the pipeline display – a piece of large pipe with the slogan "Say NO to KXL."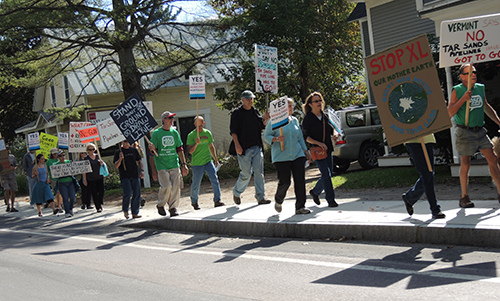 Hundreds of similar events, involving many thousands of concerned citizens, were held across the country on Saturday. Each one asked President Obama to Draw the Line against the cross-border Keystone XL tar sands pipeline construction and to deny tar sands transport through existing pipelines, such as the 63-year-old line that runs through the Northeast Kingdom. Seven events were held in Vermont, in cooperation with 350VT.org, the state arm of 350.org which, along with a dozen national environmental organizations created the push to Draw the Line. Several Valley marchers, including MRV protest organizer Callie Willis, joined an afternoon group in Middlebury.
"It's also apparent that many people are unaware of – or don't believe in – the dangers of runaway climate change and are more focused on the immediate future, on the status quo. Unfortunately, many have been taken in by the propaganda disseminated by the fossil fuel industry and legislators whose campaign coffers are filled by them. Climate change deniers are more interested in their bottom line or in winning the next election than they are in securing a habitable planet for future generations," commented Warren activist Dotty Kyle, who continued; "When people state that they want to see the KXL pipeline built because it will create jobs, it's misguided and sad. Yes, according to the state department's report on the pipeline, about 3,900 temporary construction jobs will be created over a two-year period, as well as 35 to 100 longer term positions. But that's in an economy of 150 million working people. Think how many jobs could be created if that energy were put into the huge number of infrastructure projects that are needed to bring the U.S. up to modern standards. In addition, we should focus on the development of far more renewable energy and creating a renewable-friendly nationwide electric grid. That's something truly worth doing."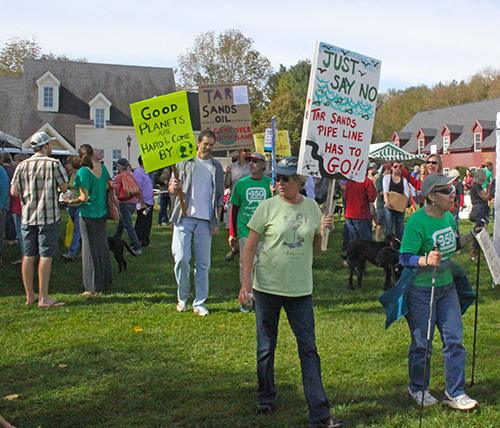 Middlebury's Bill McKibben, international voice of 350.org, inaugurated the KXL protest movement more than two years ago. In a recent email, he said: "Stopping Keystone XL won't stop global warming – but it would keep a huge pool of carbon in the ground and, perhaps, begin to turn the tide against the relentless greed of the fossil fuel industry. That would be a big deal indeed."