Category: News
Created on Thursday, 24 October 2013 15:38
Last Updated on Thursday, 24 October 2013 15:38
Published Date
Written by Rachel Goff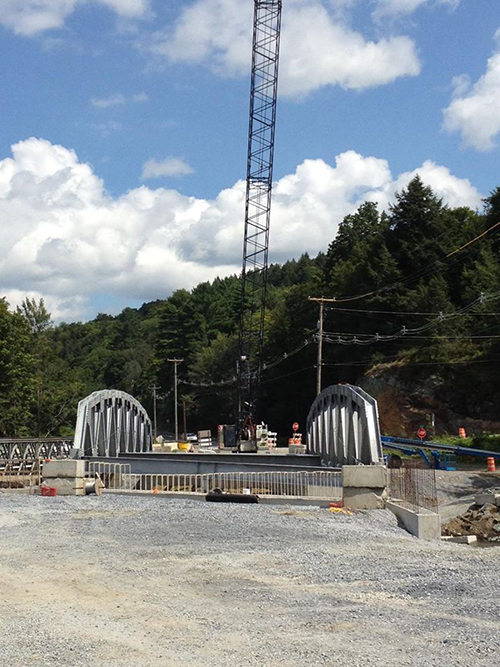 By the end of the month, the replacement for the Kingsbury iron bridge on Route 100 will be open.
Contractor S.D. Ireland Companies began construction on the replacement of the 1929 Kingsbury iron bridge in Warren last October, installing a temporary (or "Mabey") bridge just downstream of the existing structure, through which traffic is now rerouted as the crew works on installing the permanent pony truss replacement.
According to Vermont Agency of Transportation (VTrans) resident engineer Vic Dwire, the replacement bridge should be open for two-way traffic by October 30, although flaggers will direct one-way traffic during the day as the crew continues to work on preparing the road surfaces approaching the bridge so that they match into the Route 100 paving project.
As part of that work, this past summer construction crews blasted a section of rock just north of Airport Road and Volkstown Road to allow for a more direct—rather than angled—intersection with Route 100. This will increase visibility across the bridge. The two roads will also be rerouted slightly so that they join together into one road before intersecting with Route 100.
Once the replacement bridge is open, crews will work on removing the detour and the temporary bridge, which will be done "probably before December 1," Dwire said, when construction season ends.
When S.D. Ireland resumes work on the bridge on April 15—weather dependent—crews will work mostly on "dressing up the project," Dwire said, which includes putting down the final (third) layer of pavement and finishing cleanup.
The projected end date for the project is June of 2014, but "I'm looking forward to opening the bridge [this month]," Dwire said. The pony truss replacement "is one of the finer-looking bridges," he said. "S.D. Ireland has done a really good job."