Category: News
Created on Thursday, 02 January 2014 09:51
Last Updated on Thursday, 02 January 2014 09:51
Published Date
Written by VR
2014 Year in Review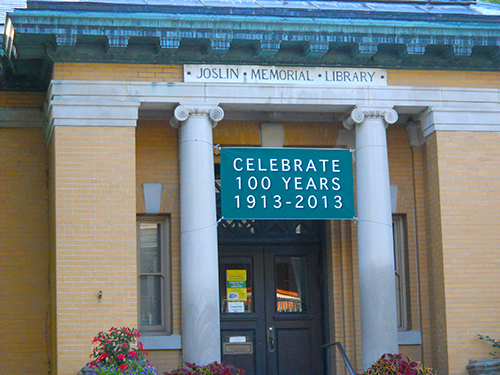 Joslin Memorial Library in Waitsfield celebrated its 100th birthday last summer.
The building was constructed over a period of eight months in 1913 with funds donated by George Joslyn in memory of his grandfather, Waitsfield resident Joseph Joslin. The cornerstone of Joslin Memorial Library was laid on Memorial Day 1913, and 300 people attended its dedication on October 30, 1913.
The building, complete with limestone columns, a marble entryway and starburst windows, maintains a sense of antique charm even 100 years later, as Joslin Memorial Library incorporates new technology, updates its collection and expands its programming.
On Saturday, August 10, the celebration got under way in the park next to the library and Waitsfield United Church of Christ with a reading by Peter Joslin of the 1913 dedication speech written by founder George Joslyn. The afternoon included a talk by famed mystery writer Archer Mayor, music by the five-piece brass band, Constitution Brass, ice cream, historical displays and other activities, including the chance to contribute to a time capsule to be opened 100 years from now.