Category: News
Created on Thursday, 20 March 2014 10:49
Last Updated on Thursday, 20 March 2014 10:49
Published Date
Written by VR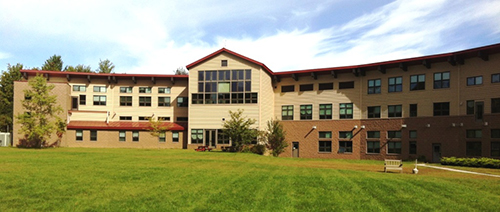 The lights were on and the phones were ringing at the new Vermont headquarters of Cabot/Agri-Mark in Waitsfield this week.
Cabot will ultimately have 90-plus employees at Mad River Industrial Park in Waitsfield. The company purchased the former Northern Power Systems building last year and spent the fall and first part of 2014 getting the building ready.
The on-site employees (and those who will join them) received welcome bags featuring gift certificates and merchandise from dozens of local businesses. The bags were delivered by Mad River Valley Chamber of Commerce director Susan Klein on Monday.
The move allows Cabot to consolidate Vermont offices in Montpelier and Burlington.
The building has been empty since Northern Power Systems left Waitsfield in 2007. Ownership of the 31,000-square-foot building reverted to Central Vermont Economic Development Corporation from whom Agri-Mark purchased it.
Agri-Mark will be using 22,000 square feet of the building and will become the landlord for two tenants who are leasing 9,000 square feet through 2016. The dairy co-op paid approximately $2.8 million to purchase and renovate the building with the Vermont Economic Development Authority providing a $2 million loan for the acquisition.
The real estate arm of Central Vermont Economic Development Corp. repossessed the building in 2007 when the original Northern Power Systems defaulted on its loan and filed for bankruptcy, according to Sam Andersen, executive director of CVEDC.
The dairy farmer-owned cooperative has more than 1,200 member farms located in New England and upstate New York.