Category: News
Created on Thursday, 10 April 2014 11:33
Last Updated on Thursday, 10 April 2014 11:33
Published Date
Written by Rachel Goff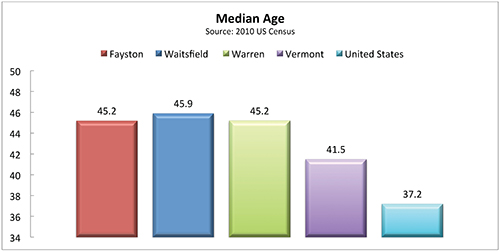 By Rachel Goff
When Mad River Valley Planning District (MRVPD) director Joshua Schwartz says "The Valley is old," he's not talking about town charters dating back to the 1700s.
Last month, the MRVPD released its 2013 Data Report for the towns of Waitsfield, Warren and Fayston, all of which post median ages much higher than state and national averages. In 2010, the median age of people in Waitsfield was 45.9, and in Warren and Fayston it was 45.2. The median age in Vermont was 41.5 and the median age for the country was 37.2.
The Valley's older-than-average population was brought to residents' attention earlier last fall at the Vermont Downtown Action Team (V-DAT) workshop in Warren, during which discussion turned to the issue of affordability, which is decreasing due to the town's proximity to increasingly popular ski areas. Already, many longtime residents have seen their children grow up and move away because they can't afford to live in what is now a very wealthy area.
"How do you make a living in this town?" one resident asked, explaining that many who live in Warren have jobs that allow them to work from home, via the internet, and that the town is perhaps lacking in other employment opportunities.
Indeed, of the people who live in Warren, Waitsfield and Fayston, 23 percent are self-employed, V-DAT project coordinator Tripp Muldrow reported, which shows that "if you're living here, you're making some pretty deliberate choices ... to be here," he said. Self-employed residents "can live anywhere," Muldrow said, but they're choosing to live in The Valley because "they're choosing quality of life."
Quality of life can be expensive, however, and an ongoing economic development study identifies a significant out-migration of 18- to 34-year-olds in The Valley, perhaps due to affordability, Schwartz said. The area could also be lacking in housing for young people, he said, who are often competing with The Valley's seasonal skier population for condos, apartments and other rental opportunities.
The out-migration of 18- to 34-year-olds has implications for jobs in the hospitality and leisure industry, Schwartz said, which is the largest in The Valley and are more typically held by young people. A more detailed analysis of the effects of their out-migration will be included in a presentation of the economic development study this summer.
While there are fewer 18- to 34-year-olds in The Valley, however, the number of residents 35 to 45 years old "has increased substantially over the past two decades," Schwartz noted. The 35- to 45-year-old age group usually consists of families with young children and its increase is reflected in steady or increasing enrollments at Waitsfield, Warren and Fayston Elementary Schools at a time when school enrollment is decreasing statewide. The Valley is losing 18- to 34-year-olds, but it's getting them back perhaps later on in life, "whether they grew up here or not," Schwartz said.
For more information from the 2013 Data Report, visit mrvpd.org/MRVDataReport.php.