Category: News
Created on Thursday, 26 June 2014 13:46
Last Updated on Thursday, 26 June 2014 13:46
Published Date
Written by VR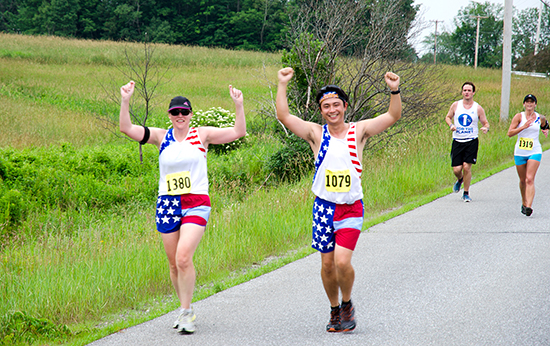 With only 10 days to go, preparations are in full swing for the fourth annual Mad Marathon. More than 1,000 runners are signed up and registration is open until July 2 at midnight. This year's race is a mix of 45 percent Mad Half runners and walkers, 40 percent Mad Marathon 15 percent relays.
While those breakdowns are similar to last year, the big change is that 60 percent of the participants are women and 40 percent are men. The course record stands at 3:15:06 for women, set by Diona Fulton of Watertown, MA, and 2:45:56 for men, David Herr of Canaan, Vermont. In 2013, Andrew Peters of Boston was the top male runner coming in at 2:55:10 and Megan Call of Wilmot, NH, led the women at 3:25:36.
Last year three Vermonters placed in the top 10 for men and women with Jesse Phillips of Warren in that accomplished group. This year those times stand to be challenged by elite runners from the U.S. and beyond. At the finish line spectators will see flags representing the states and countries of runners. Go to www.madmarathon.com for more information and photos from previous years.
Who is running and why?
The backgrounds of the runners are as diverse as their hometowns and times. Some people use the Mad Marathon to qualify for Boston; some come back to visit friends and family. Others want the challenge of the hills, Mad River hospitality or a break from city running. Here is a sampling of why people run the Mad Marathon:
"I'm running the Mad Marathon for the stunning scenery. I think Vermont is the ultimate summer escape for a runner," said Bart Yasso, veteran marathoner and Ironman. Yasso plans to run the course snapping photos for his followers. He has been with Runner's World since 1987 where he developed the magazine's sponsorship program for more than 7,000 races around the world each year. He invented a training method called the Yasso 800s that predicts someone's marathon time according to how long it takes them to run 800 meters. As the author of My Life On the Run: The Wit, Wisdom, and Insights of a Road Racing Icon he is often referred to as the "Mayor of Running."
"I have a learning disability and The Stern Center has been my rock for 35 years. If it weren't for The Stern Center I don't know how my life would have turned out. Running in the Mad Marathon is an honor. Coming back to Vermont from south Florida for the race is the highlight of my summer – I can't wait to see my friends from The Stern Center! I love the Green Mountain State and look forward to running the mountains," explained Doug Rumsey, 41, of south Florida. The Stern Center in addition to Hannah's House of Waitsfield and Branches of Hope, Central Vermont Medical Center, are some of the nonprofits that raise funds via the Mad Marathon.
"We participate in the Mad Marathon with great pleasure. To take part in our community and support this wonderful event means so much. It has such a family feel to it and to get a hug from Dori at the end is worth every step. We wouldn't miss it!" added Tanya Worden of Waitsfield.
While some roads will be closed on Sunday, July 6, once runners safely pass, roads will be opened to local residents on an as-needed basis. The Mad Marathon starts at 7 a.m. on Sunday so runners are typically finished with the first half of the course by 10 a.m. Dori Ingalls, race director, and everyone involved with the marathon thanked Valley residents and visitors in advance for their patience during race hours. After recent years of bridge and road construction Valley residents are a patient bunch.