Category: Obituaries
Created on Wednesday, 24 October 2012 16:41
Last Updated on Wednesday, 24 October 2012 16:41
Published Date
Written by Submitted by Family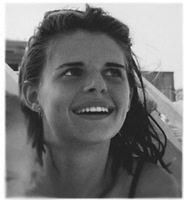 Rebecca Sunshine Domski, 40, died tragically from a fall in Warren on Sunday, October 21, 2012.
She was born July 13, 1972, on Staten Island, New York, the daughter of Ronald Domski and Ellen Domski (Klindtworth Bissonnette). In 1976, she moved to Addison County, Vermont, with her mother, her sister Heather Jude and her stepfather Wilfred Bissonnette.
Becky attended Lincoln and Starksboro elementary schools and graduated from Mt. Abraham (1990), where she was active in sports and extracurricular activities and was the president of her class. She then went to Johnson & Wales in Providence, RI, where she graduated with a degree in hotel and restaurant management. Her outgoing personality suited her career choice well, and she worked in managerial positions at several resort hotels.
She traveled extensively, loved the ocean and lived most of her adult life on Block Island, a small island off the coast of Rhode Island where she opened a gift and gallery shop, 234 Water. She had a distinctive eye and loved selecting artwork and supporting local and Vermont artists to feature at 234 Water. She returned to Vermont in 2010 and worked opening the General Store at Sugarbush.
Becky was naturally thoughtful, selfless and had a truly generous spirit. She had an infectious laugh and brought joy to those around her. She was full of life, positive and uplifting. She made you feel like the only person on earth when you had her attention.
She is survived by her parents and stepparents, Ellen and Bill Bissonnette and Ron and Patricia Domski, her sister Heather Jude Domski, her brothers Nickolas, Philip and Maurice Bissonnette and his wife Emily, as well as beloved aunts, uncles and cousins; Jon MacKenzie and his family. She had as many dear friends on Block Island and in Vermont and spent time in Warren with her friend Jon Mott.
There will be a wake for Rebecca Sunshine Domski from 5 to 8 p.m. this Friday, October 26, at the Brown-McClay Funeral Home, 4 South Street, Bristol, VT. A Memorial Service will be held at 3 p.m. on Saturday, October 27, at the United Church of Lincoln, 23 Quaker Street, Lincoln, VT.
All are welcome. Come celebrate the life of a beautiful person who touched so many lives and lived life so fully. Blessed are we.
For those who wish, contributions in her memory can be made to the Block Island Conservancy at www.biconservancy.org or to Project Graduation at Mt. Abraham Union High School, (802) 453-2333.