Category: Obituaries
Created on Thursday, 15 November 2012 00:31
Last Updated on Thursday, 15 November 2012 00:31
Published Date
Written by Submitted by Family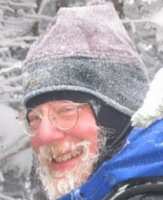 David M. Wood died peacefully at home with loved ones by his side on Saturday, October 13, 2012, after a brief battle with brain cancer.
Dave was born on January 24, 1952, in Blue Island, Illinois, and moved to coastal California during primary school. He loved California for its natural diversity—having grown up surfing and then hiking in the Sierra. He attended UC Santa Barbara and UC Davis for his bachelor's in biology. He then worked for the U.S. Forest Service as a backcountry botanist in the High Sierra near Yosemite, Sequoia and Kings Canyon National Parks. This inspired him to earn a master's in botany at California State University, Fresno by 1980. He went on to get his Ph.D. at the University of Washington (1987) working on the return of plants to the most devastated area of Mount St. Helens.
In 1987, he moved to the lower Hudson Valley of New York for a post-doctoral fellowship at the Institute of Ecosystem Studies working on plant management in the rights of way of transmission power lines. He met his wife, Jean G. Hubbell, a research assistant on an air pollution project there. Besides their ecological connection, they discovered they both enjoyed gardening and outdoor adventures in the mountains. Their adventures started on a small pond where she taught him to ice skate.
In 1988, he accepted his first teaching position in the biology department at Wheaton College in Norton, MA. He enjoyed his colleagues there and oversight of the greenhouse but yearned to be back in the West. In graduate school, he had listed three places where he would like to teach—CSU Chico topped the list and in 1990 he was offered a job in the department of biological sciences there.
Dave flourished at CSU, Chico, enjoying his colleagues, his undergraduate students, his new opportunity to have graduate students, giving talks to local organizations while exploring the mountain backcountry with his wife—especially on skis. He was passionate about providing students with modern tools and teaching methods and helped bring computers and different curriculum to the biological sciences. Those who knew him well will smile at the term "passionate," as Dave's passion came through with gracious subtlety, always respectful of others, as a quiet and thoughtful mediator. Dave expanded his research from Mt. St. Helens to include restoration ecology on the nearby Sacramento River with the Nature Conservancy. He took early retirement in 2010 to support his family as they transitioned to living back east in Vermont.
Dave was new to The Valley and only had a short time here before becoming ill with brain cancer. He was a stalwart volunteer in support of his daughter's education and activities from the Four Winds Nature Institute, Fayston Elementary School fundraisers to Mad River Valley Soccer and Bill Koch League. That support continued when she went to Harwood Union Middle School.
Dave volunteered at Joslin Memorial Library, where he was valued for his computer skills as well as reading knowledge and kind disposition. Dave often volunteered there with his family: Dave at the circulation desk, while Jean and Tenaya did special projects for librarian Joy Worland. He and family continued their outdoor adventures whether it was Nordic or alpine skiing, ice skating or hiking.
Dave will be sorely missed as a kind, gentle, loving soul with a wonderful sense of humor, where he'd give you an exuberant smile and toss his head back to laugh. He was an amazing husband and father—so full of quiet love.
He's survived by his wife of 20 years, Jean G. Hubbell; their daughter, Tenaya E. Hubbell-Wood of Fayston, VT; a brother, Allen D. Wood of Palo Alto, CA; and sisters- and brothers-in-law, nieces and nephews from coast to coast.
A celebration of Dave's life will be held on Saturday, December 1, 2012, from 1 to 4 p.m. at the 1824 House Inn & Barn, 2150 Main Street, Waitsfield, VT.
In lieu of flowers, donations in his memory can be given to the Joslin Memorial Library, P.O. Box 359, Waitsfield, VT 05673 or the Central Vermont Home Health & Hospice, 600 Granger Road, Barre, VT 05641.