Category: Obituaries
Created on Thursday, 27 June 2013 00:48
Last Updated on Thursday, 27 June 2013 00:48
Published Date
Written by Submitted by Family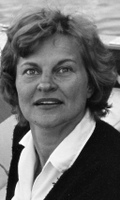 Betty W. Phinney, 93, died on Thursday, June 20, 2013. Mrs. Phinney was in the education field for over 20 years, being in teaching and administrative positions in New Hampshire and Vermont. A native of Virginia, she was a lifelong member of the Episcopal Church. She attended Longwood College in Virginia, earned a bachelor's degree from Iowa State University and a master's degree from the University of New Hampshire.
In 1946, she married George Phinney of Amherst, Massachusetts. Mr. Phinney died in 1973. Her daughter, Sienna Walton, died in 2005. She is survived by her son, Dennis Collins and his wife Susan Baer Collins of Norfolk and Omaha, Nebraska; grandchildren Alison Collins Dessert of Eudora, Kansas, Polly Walton Yerkes and her husband Jamie of Lower Waterford, Vermont, Nathan Collins of Nashville, Tennessee, and Daniel Goetz and his wife Kasha of Colchester, Vermont; son-in-law Dick Walton and his wife Kate Gavin of Montpelier, Vermont; and 14 great-grandchildren.
There are no visiting hours. A private burial will be scheduled at a future date. In lieu of flowers donations will be welcome at Central Vermont Home Health Hospice, 600 Granger Road, Barre, VT 05641 (www.cvhhh.org). Assisting the family is the Perkins-Parker Funeral Home and Cremation Service in Waterbury. To send online condolences visit www.perkinsparker.com and Facebook.