Category: Obituaries
Created on Thursday, 25 July 2013 10:45
Last Updated on Thursday, 25 July 2013 10:45
Published Date
Written by submitted by family
Donna J. (Woolley) Hinkle
1963-2013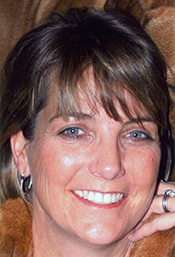 Donna J. (Woolley) Hinkle of Gleneig, Maryland, passed away peacefully June 29, 2013. Donna was the beloved wife of Phillip Hinkle, devoted mother of Brady Hinkle and Kayleigh Hinkle, loving daughter of Craig and Elizabeth Woolley, Fayston, VT. Also survived by brother Mark Woolley, children Mercedes and Connor of Warren, VT, and brother Chet Woolley, wife Suzanne, children Nigel and Liam of Volcano, HI.
Donna enjoyed many Christmas skiing vacations in the Mad River Valley with her family. People said she skied like a butterfly. Summer vacations in Vermont always included the annual family picture on the rocks by The Warren Store.
Donna worked 28 years as a special education teacher and Alternative Program coordinator for the Montgomery County Maryland Education Department. She retired from the school system in 2012 as she fought her courageous fight against the cancer that would ultimately take her life. During treatment she never complained. Her objective was to get as much out of life as she could, to live every day for her family, friends and UNH Wildcats women's lacrosse team. She would always search for the good in people and was the first to forgive. Donna will be missed by all who loved her.