Category: Obituaries
Created on Thursday, 25 July 2013 10:46
Last Updated on Thursday, 25 July 2013 10:46
Published Date
Written by submitted by family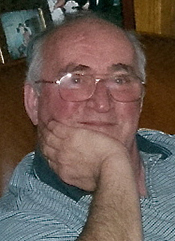 Robert Thomas "Tom" Spence, 67, passed away in the comfort of his home and family on Friday evening, July 19, 2013. Born in Waterbury on June 26, 1946, he was the son of the late Donald W. and Hazel (Cavanaugh) Spence. On July 10, 1971, Tom married the former Jacklyn Labbe in Waterbury.
In 1966, Tom was a member of the last graduating class from Waterbury High School and then went on to serve with the U.S. Air Force during the Vietnam War. Following his discharge from the service in 1970, Tom worked several years for Rossignol Ski Company in Williston, for Benner Skis in Prince Edward Island and then for Huntington Manufactured Homes where he was plant manager in Orange, MA.
A desire for entrepreneurship and independence brought Tom and Jackie to become the proprietors of what became TJ's General Store in Waterbury Center. An eclectic mix of good food, staple groceries and the epicenter of local, state and national politics, Tom and Jackie partnered in this mainstay of Waterbury Center from April 1987 until October 2003. Most recently Tom worked for the Lamoille County Solid Waste District as the manager of all transfer stations.
Tom served the Waterbury community in many ways; as a member, past president and EMT for the Waterbury Ambulance Service, a member and officer of the Waterbury Center Fire Department, as zoning administrator and a member of the town zoning board of adjustment and member of the recreation committee. The identity of Waterbury Center as an integral part of the greater Waterbury community was very important to Tom. He was instrumental in the development of the playground at Hope Davey Park, the gazebo in the Center Park and the Good Neighbor Day. In addition, he took care of lighting the Christmas tree in the Center Park, maintaining the skating rink in the Center for many years and helping in the development of the disc golf course and walking path.
Tom's memberships included being a life member of the Waterbury-Stowe Fish and Game Club and VFW Post #10034, the Winooski Lodge #49 F&AM and the Harry N. Cutting American Legion Post #59 where he served many years as its finance officer.
In his leisure time, he enjoyed the annual LCI tournament with his two daughters, his fishing trips to Lake Ontario and moose watching with his wife in New Hampshire and Maine.
Tom is survived by his wife of 42 years, Jackie Spence of Moretown; their daughters, Nicole Spence and her companion Jason Thurston of Middlesex, and Gloria Bruce and her husband Jonathan of West Charleston; his granddaughter, Ryleigh Bruce; his sister-in-law, Nan Spence of Winooski; his father-in-law, Edwin Labbe of Barre; his sisters-in-law, Ann Labbe Merrill of Graniteville, Gloria Bilbrey of Barre, and Michelle Gingras and her husband Brian of Barre; as well as nieces, nephews and extended family. Tom was predeceased by three sisters, JoAnn O'Neill, Irene Whalley and Sarah Keefe, and two brothers, William and Donald Spence.
Tom's family invites you to a time of visitation and light refreshments at the Hope Davey Recreation Shelter on Maple Street in Waterbury Center on Friday, July 26, 2013, from 2 to 4 p.m. Private inurnment with military honors will take place in the Waterbury Center Cemetery. The family requests that flowers be omitted; rather memorial gifts would be appreciated to the Waterbury American Legion Veteran's Fund, P.O. Box 417, Waterbury, VT 05676. Perkins-Parker Funeral Home and Cremation Service in Waterbury is assisting with arrangements. To send online condolences visit www.perkinsparker.com and Facebook.