Category: Obituaries
Created on Thursday, 29 August 2013 08:57
Last Updated on Thursday, 05 September 2013 09:04
Published Date
Written by Submitted by family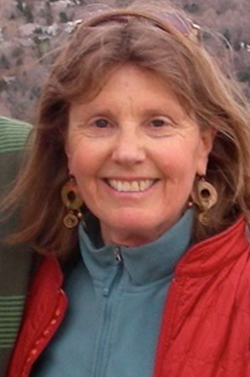 Betsy Eckfeldt, who always sought to celebrate the beauty in life and generously shared her vibrant but gentle spirit, died peacefully in her home in Roxbury on August 13, 2013. She was 63 years old and had cancer. Betsy loved her husband Norm; mother Phyllis; daughter Emily; son Nathaniel; son-in-law Zubin; daughter-in-law Lindsey; grandson Cyrus; brother Grant and his family; late father Grant; late sister Cindy; the home she shared with Norm which they began building 40 years ago; their flower and vegetable gardens; their three tabby cats; trails through the woods where she walked, skied and snowshoed; colorful skirts, scarves and jewelry; fruit pies and jams; her devoted and varied community of friends; and the countless number of children she taught, read to and inspired.
Born and raised in Fitchburg, MA, in her youth, Betsy traveled to Stowe, VT, with her family every weekend to ski. She attended Applewild School, briefly Northfield Mount Hermon, followed by St. Mary's in the Mountains, and then Middlebury College, where she studied elementary education and French. After graduating in 1971, she lived in England before returning to the Green Mountain state. While working at a small ski lodge in Warren, she met Norm Vandal, a fellow "back-to-the-lander." Soon afterwards they began building a life together in Roxbury, growing their own food and raising two children, while Norm made period furniture and Betsy dried flowers to sell on a cart she parked at farmers' markets and craft shows.
Annual trips to Maine and Cape Cod were a highlight of Betsy's adult family life, and there she swam, voraciously picked blueberries and made jam for family and friends. Betsy's teaching career reflected her lifelong passion for early childhood education and literacy. She taught preschool at Waitsfield Elementary School for 24 years and briefly at both Warren and Moretown Elementary Schools. She ran Spring Hill School summer camps. Betsy inspired many and was excited in her incessant pursuit of inclusive, enriching, discovery-based classrooms.
She traveled to Reggio Emilia, Italy, to study their city's creative methods of teaching children. For years she was a library trustee and grant-writer and, in 1993, she began co-creating literacy programs for the Vermont Humanities Council to introduce new parents to the importance of reading to young children. She liked to say: "Babies need books!"
One of Betsy's greatest joys was teaching yoga and mindfulness meditation to youngsters, and she attended a yoga teacher training at Kripalu after retiring from Waitsfield Elementary School in 2011. She called it "yoga boot camp" and emailed family daily with her reflections starting at 6 a.m.! She was also a certified YogaKids instructor. In her career as a teacher she learned how helpful yoga postures and mindfulness can be to children, particularly to those with special needs, and she planned to consult part-time in schools and to teach privately in her retirement as part of what she fondly called the "Vermont Mindfulness Movement," a curriculum she was developing when she found out she had cancer in 2012.
Betsy's warmth, creativity, generosity and open heart were attributes she shared wherever she went. She was a friend to many, with a rare vibrancy for life and relationships. She was beautiful and she was kind. She taught us about living and dying gracefully. Her twinkling eyes, enormous smile, red hair and boundless energy will be remembered by many. She is survived by the love she shared and the extensive communities she created everywhere she went.
A ceremony and potluck celebration to honor Betsy's life will be held at Knoll Farm/Center for Whole Communities, in Waitsfield, on Sunday, September 8, at 3 p.m. Please bring flowers (no stems) for a community ritual art Mandala and a potluck hors d'oeuvre to share. Please carpool and consider dressing to honor Betsy. In lieu of flowers to the family, you may wish to make contributions in Betsy's memory to: Hope Lodge, Burlington or Vermont Humanities Council: "NTE" program. Betsy's family expresses deep gratitude to the Hope Lodge, Central Vermont Hospice Services, music therapist Islene Runningdeer and the network of friends and family who have offered support during this time.