Category: Obituaries
Created on Thursday, 10 October 2013 11:13
Last Updated on Thursday, 10 October 2013 11:13
Published Date
Written by jkvt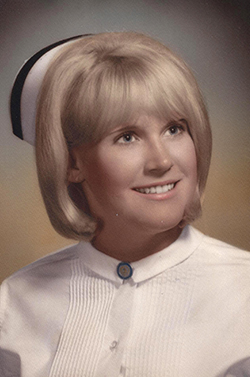 (Josette) Michelle Smith, 66, passed away in the comfort of her family in Waterbury Center, VT, on Thursday, October 3, 2013. Born in Montpelier , VT, on April 28, 1947, she was the daughter of the late Leon and Lucia (Backus) Griffith. On January 19, 1980, she married Christopher C. Smith in Boca Raton, FL.
Michelle was raised in a loving family in Waterbury Center. Since she was 13, she has been a continuous member of Waterbury Center Community Church.
She attended Waterbury Center Elementary School and was a 1965 graduate of Waterbury High School. Michelle always knew that she wanted to be a nurse and care for others. Following graduation from high school she enrolled in the Mary Fletcher Hospital School of Nursing in Burlington, VT. She graduated with honors in 1969 and promptly moved to Ft. Lauderdale, FL, with her best friend from nursing school.
From 1969 to 1981, she worked at Broward General Hospital and Boca Raton Community Hospital. Starting as a floor nurse, her positive attitude and willingness for hard work became apparent to hospital administrators. She steadily rose through the ranks from floor nurse to head nurse of critical, intensive and medical care units. When she left Boca Raton Community Hospital in 1981, she had attained the position of nurse clinician but even more impressive, the love and respect of all she came in contact with, on both professional and patient levels.
In 1981, she and Chris moved back to Waterbury. She worked for a while at Dr. Robert Murray's medical office but soon decided to take a break from nursing. She went to work for Vermont Realty Exchange and was extremely successful, achieving numerous professional ratings and awards. She finished her real estate career as the Vermont Realtors Association liaison to the Vermont Legislature.
In 1992, Chris had a wonderful job opportunity and they moved to Lake Wylie, SC. Michelle decided to return to nursing and spent 10 years with SC DHEC, caring for patients as a home-health-care nurse. It was another very rewarding job for her and her patients loved seeing her smiling face come through their door to give them medical attention and emotional comfort.
In 2003, she and Chris moved to Palm Coast, FL. Michelle took a year or so off to get settled, then took on her last, and in some ways most rewarding, nursing challenge. She was the school nurse at Old King's Elementary School in Palm Coast, FL. She had responsibility for over 1,100 children from K-5 and for the school staff. On busy days she would see 90 children. She always came home tired but so very happy to have worked with the kids. Walking at the shopping mall and seeing a child with a huge smile, dragging her mother towards Michelle and yelling, "Nurse Michelle, Nurse Michelle!" gave her pleasure and gratification that cannot be described.
In the spring of 2007, Michelle retired and started enjoying the months of summer at their summer home in Glendale Springs, NC.
Michelle has always been an animal lover but has been especially drawn to boxers. She has not been without a boxer for more than a few months since 1971. Through the years she also had cats and was kind to any animal she came into contact with.
Michelle's two favorite pastimes were golf and travel. When she returned to Waterbury in 1981, she became a fixture at Blush Hill Country Club, where she played anytime possible. When she moved to SC, she joined River Hills Country Club and was involved in many tournaments and activities. Also in NC she was a member of the Ladies' League at Mountain Aire golf course and very active with that group.
Her main love was travel. She had the opportunity to travel the world, spending time in both cosmopolitan and exotic locations. One of her favorite photos is of her and Chris riding an elephant in Chiang Mai in the northern part of Thailand. In 2005, for their 25th anniversary she and Chris spent 12 days on a safari in Tanzania, where she saw more animals than she could ever have imagined. She also made many trips to Europe, Singapore, China and Japan as well, with her last in 2011 traveling to Italy and Germany.
In her final years, she bravely battled her cancer, lasting so much longer than expected, and she was considered a miracle by some of her physicians. Her final days were spent resting at her sister's home in Waterbury Center, surrounded by the mountains in which she was raised and the family that she so dearly cherished.
Michelle is survived by her husband of 33 years, Chris Smith of Salt Springs, FL; her sisters, Betty Anne Libby of Waterbury Center, VT, Cindy Griffith of Middlesex, VT, and Noni Augustoni of Largo, FL; as well as nieces, nephews and extended family.
Memorial services were held from Waterbury Center (VT) Community Church on Tuesday, October 8, 2013, at 11 a.m. with a reception to follow in the church dining room. In lieu of flowers, memorial gifts would be appreciated to Florida Boxer Rescue Inc., Attn: Donations, in memory of Michelle Smith, 2039 East Crooked Lake Drive, Eustis, FL 32726 (www.flbr.org/michelle). Assisting the family is Perkins-Parker Funeral Home and Cremation Service in Waterbury, VT. To send online condolences, visit www.perkinsparker.com and Facebook.