Category: Obituaries
Created on Thursday, 12 December 2013 09:34
Last Updated on Thursday, 12 December 2013 09:34
Published Date
Written by Tim Seniff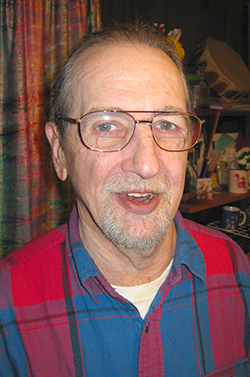 In Memoriam
November 4, 1947 – November 22, 2013
As I understand it, Denny was from and spent a lot of his youth in the Atlantic City and New York City areas starting in 1947. As a youth he was able to accidentally throw a water balloon into a patrol car window and get away with it. He went to Washington College and Fordham University starting his college career at the age of 16 graduating with a B.A. in international politics.
Denny was a member of Young Americans for Freedom. From 1961-62, he worked on the William F. Buckley NYC mayoral campaign and in 1964 he was a campaign worker for the Barry Goldwater for President campaign bid. Who would have thought Denny was a Republican at one time? At one point he was the Vermont representative for NORML (National Organization for Marijuana Reform), FEAR (Forfeiture Endangers American Rights) and FAMM (Families Against Mandatory Minimums) and a member of the Marijuana Policy project.
He was also founder and chair of the Vermont Grassroots Party (VGP) and in 1996 and 1998 he received enough votes in the elections to make the Grassroots Party the third viable political party in Vermont and by doing this was able to anger reporters from most of the major publications in Vermont. He ran for Vermont governor in 1994 and 1996, Vermont secretary of state in1998 and Vermont auditor in 2002. He also ran against George W. Bush in 2000 on the ballots of Vermont and Minnesota.
Denny was an advocate for the end of marijuana prohibition for most of his life and had a major role in the 420 demonstrations in Burlington back in the day. He believed in educating and making people aware of diverse subjects ranging from the Federal Reserve, the banking system, executive orders, the evils of drug prohibition and the display of gold-fringed American flags (you know what it means?). He ran several retail businesses – Native American arts, health foods and mail order – you name it, he probably sold it. He was also the one to introduce Snapple drinks to the state of Vermont.
While working for Advanced Independent Research Lab, he created light sculptures and was able to sell The Grateful Dead a couple of the Plasma light sculptures for their light shows in 1985. He loved four hobbies: fishing, baseball (The Powder Hounds all stones), real poker and online poker and also smoking weed. Oh, and let's not forget, pyrotechnics for any and all occasions.
He was also a long-term character of the Mad River Valley. He also loved all his animals and especially his last longtime friend "The Amazing Blue"; she was a dog goddess to him.
Denny was a very kind and gentle soul and at times an enigma to most and he would always go out of his way for a friend when he could. Denny died peacefully in his sleep – that lucky bastard – a couple weeks ago in Waitsfield. But he was definitely a longtime Warren resident, so let's just make that clear for the record.
He will be sorely missed by all that knew him. So, Denny don't bogart it, pass it on.
—Tim Seniff, Warren