Category: Obituaries
Created on Thursday, 12 December 2013 09:39
Last Updated on Thursday, 12 December 2013 09:39
Published Date
Written by Submitted by family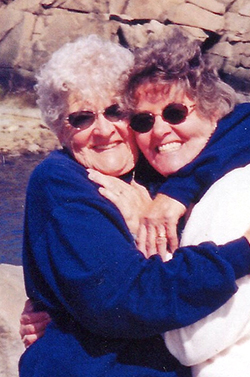 Katrica Luce Kenyon, 84, Waitsfield, passed away in the comfort of her family on Saturday, December 7, 2013, at Woodridge Nursing Home in Berlin. Born in Montpelier on October 21, 1929, she was the daughter of the late Leon and Goldie (Carleton) Taylor.
On December 27, 1948, she married Bertrand G. Luce in Waitsfield. Bertrand passed away on August 19, 1978. On March 10, 1990, Katrica married Howard Kenyon in Waitsfield.
Katrica was a 1947 graduate of Waitsfield High School and following her marriage was happy and busy as a homemaker and raising her family. She later began driving children to school for the Warren School system, using the family Jeep that Bertrand added an extra seat to. Katrica later worked many years in the Mad River Valley as a chambermaid, first for the Tucker Hill Lodge, then the Christmas Tree Inn and later the Golden Horse Lodge.
Katrica was a member of Warren United Church and the American Legion Auxiliary in Montpelier. In her leisure time she enjoyed reading, puzzles, and working in all aspects on the Kenyon Farm with her husband Howard, especially taking care of the cattle.
Katrica is survived by her husband, Howard Kenyon of Waitsfield; her daughter, Corinne Moulton and her husband Brian of Warren; her grandchildren, who affectionately called her "fanny granny," Tony Moulton and his husband Austin of Shelburne, Lisa Nisen and her husband George of Northfield; three stepdaughters, Joyce Farnsworth, Evelyn Sawyer and her husband Jackie, and Brenda "Mickie" Eastman; two stepsons, Doug Kenyon and his wife Donna and Gary Kenyon and his wife Dixie; as well as nieces, nephews and extended family. Katrica was predeceased by a sister, Kit Hartshorn, and a brother, Konrad Taylor.
Funeral services will be held from Warren United Church on Thursday, December 12, 2013, at 2 p.m. with a reception to follow in the church dining room. Friends may call at Perkins-Parker Funeral Home in Waterbury on Wednesday evening from 7 to 9 p.m. Entombment will be in Hope Cemetery Vault in Waterbury pending spring interment in Warren Village Cemetery. The family requests that flowers be omitted; rather memorial gifts would be appreciated to the Alzheimer's Association, 300 Cornerstone Drive, Suite 128, Williston, VT 05495 (www.alz.org.) To send online condolences visit www.perkinsparker.com and Facebook.