Category: Obituaries
Created on Thursday, 19 December 2013 10:26
Last Updated on Thursday, 19 December 2013 10:26
Published Date
Written by Submitted by family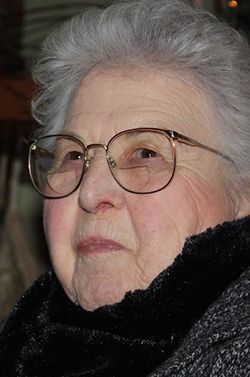 March 15, 1923–December 8, 2013
Margaret (Maggie) Towne leaves a legacy of five children: Susan Schaefer of New Haven, VT; Sandra Towne of Bracey, VA; Libby Towne; Makey and Ellen Towne of Golden, CO; and Abigail and Bob Vietze of Warren, VT; seven grandchildren: Milo Schaefer of Hoboken, NJ; Margaret and Andy Bojanowski of Middlebury, VT; Greg Allard and Amanda Blake of East Montpelier, VT; Maddie and Elliot Towne of Golden, CO; Alta Vietze and Chris Frank of Clayton, NY; Sandy Vietze of Warren, VT; and one great-grandchild, Nova Rose Bojanowski of Middlebury, VT. Maggie was preceded in death by her husband Maurice Towne, daughter Libby Towne and son–in–law Milo Schaefer. Born in Toronto, Ontario, Canada, Maggie and Maurice raised their family in Pittstown, NY.
In Canada, Maggie is survived by her sister Elizabeth and William Bygrave and her brother Magil and Joyce Darnley. She was preceded in death by her sisters Catherine Wilson and Isabel Stoles, and her brothers Stuart Darnley, John Darnley, David Darnley, Donald Darnley, James Darnley, William Darnley, Hector Darnley and Neal Darnley.
Maggie's career as a member of the administrative office at the Hoosac School in Hoosick, New York, spanned 43 years from 1970 until present. She loved her work with the students and parents from around the world, the faculty, staff, trustees and several generations of management. She had a lasting influence on most and enjoyed correspondence and visits with many alumni who kept in touch with her.
Maggie also continued her early singing career and lifelong love of all music with the choir at the Brunswick Presbyterian Church. She was a member of "White Church" for over 50 years and served in many teaching and leadership roles.
Maggie will be remembered fondly by all who met her. She was dearly loved and respected by her extensive family in the U.S., Canada and abroad; her business colleagues; church family, friends and neighbors.
In lieu of flowers, the family would sincerely appreciate receiving notes to include in a book of remembrance, at P.O. Box 186 Vergennes, VT 05491. A gathering to honor Maggie's life will be held in the spring. Donations may be made in her name to the Hoosac School, Hoosick, NY; the Brunswick (White) Church; Troy, NY, as they filled many years and hours of her life with purpose and community; or Addison County (VT) Home Health and Hospice for their caring and professional support during the last few months.