Category: Obituaries
Created on Thursday, 19 December 2013 10:29
Last Updated on Thursday, 19 December 2013 10:29
Published Date
Written by Submitted by family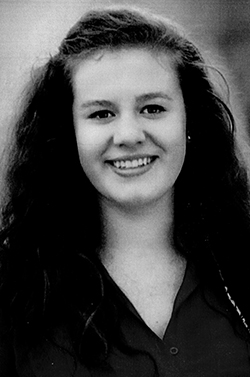 Haven Sterling Shonio, 19, of Stowe, died tragically from injuries sustained in an auto accident in Jacksonville, FL, on Friday, December 13, 2013. Haven had just completed her first semester at Flagler College in St. Augustine, FL, and was en route to Jacksonville Airport to return home for Christmas.
Haven was born September 24, 1994, in Morrisville, VT. She attended Stowe Elementary and Stowe Middle School and graduated from Stowe High School in June of this year. Haven was the recipient of four scholarships and went on to study English and Creative Writing at Flagler College.
Haven had many enjoyments in her life, including her family, her "Sitta," her pets, Kendall and Bagel, dear friends, movies, Tom Hanks and going to the beach. She especially enjoyed Old Orchard Beach, ME, Lake Willoughby, VT, and St. Augustine Beach, FL. She always wanted sand between her toes and the ocean breezes on her face. She was a collector of perfumes and various scents throughout her life, she always smelled heavenly. She was passionate about reading and writing; she was a true wordsmith and dreamed of being published. She loved music (all kinds) and attended many concerts and festivals. Haven loved to travel and hoped to study abroad in her junior year. Haven played softball from T-ball through high school and was an avid Red Sox fan, attending many games at Fenway Park. Haven worked the last several seasons as a hostess at the Cliff House Restaurant at Stowe Mountain Resort. Haven had an uncanny sense of humor and wit and was a brilliant ray of sunshine! Haven touched many lives and will forever be in our hearts.
She is survived by her parents, Barry and Penny (Farnsworth) Shonio of Stowe, VT; her sister, Hannah Shonio of Stowe; maternal grandparents, Gary and Betty (Fielder/Farnsworth) Lacey of South Burlington, VT; paternal grandparents, Marten and Barbara (Magoon) Shonio of Stowe, VT; aunts and uncles include Todd Shonio and Jen Bebe of Morrisville, VT, Bob and Robyn (Shonio) Hark of Wolcott, VT, Tim and Danielle (Lacey) Coleman of Tucson, AZ, and Danny and Loopy Quinones of Waitsfield, VT; and cousins, Jake and Brooke Shonio, Mallory and Bebe Foss of Morrisville, VT, Tyler Novak of Boulder, CO, and Hayley Quinones of Montpelier, VT.
A memorial service will be held Sunday, December 22, at 1 p.m. at Stowe Community Church. Visiting hours will be Saturday, December 21, from 3 to 5 p.m. at Stowe Community Church. White-Fiess Funeral Home is in charge of arrangements.
In lieu of flowers please send contributions to the Haven Sterling Shonio Memorial Scholarship Fund, c/o Union Bank, P.O. Box 419, Stowe, VT 05672.