Category: Obituaries
Created on Thursday, 13 February 2014 11:49
Last Updated on Thursday, 13 February 2014 11:53
Published Date
Written by Submitted by family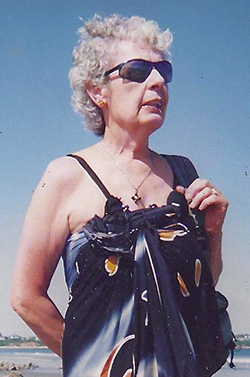 Noella C. Couture, 77, passed away in the comfort of her family at Central Vermont Medical Center in Berlin on Friday, February 7, 2014. Born in Quebec City on Christmas Day, 1936, she was the daughter of the late Adrian and Cecilia (Jaques) Julien. Noella was previously married to Larry Couture.
Noella grew up and attended schools in Quebec City. Following her marriage she was busy and happy raising her family and as a homemaker. She moved to the Mad River Valley in Vermont in the late 1970s, where she worked as a housekeeper before finding her way to The Warren Store. It was here that she truly found her niche; the people, the camaraderie, the atmosphere, the joy all developed into connections and happiness that far surpassed a workplace for over 17 years. Noella was informally known as the ambassador to Warren and the Mad River Valley, providing a welcome and warmth to tourists and locals alike, which was her trademark characteristic, and she maintained an ever-widening circle of friends and fans.
Noella actively participated in an eclectic array of interests, including belly dancing (she was an instructor for many years); a love of nature, especially the peace and tranquility of the Mad River and local brooks; a fondness for collecting stones and driftwood; and a passion for being a true foodie, a lover of fresh and organic foods and for sharing her French Canadian traditions, especially during the holidays. Noella was a kind, compassionate, dedicated, social and inquisitive woman of great faith, wisdom and strength, all of which she maintained throughout her life. She maintained strong bonds with her family and friends, both near and far.
Noella is survived by her children, Donna Couture of Montpelier, Vermont, and Christopher Couture and his wife Janel of Syracuse, NY; seven grandchildren and two great-grandchildren; her sister, Odette Julien Savard of AZ; her brothers, Florian Julien of Montreal, Michel Julien of Quebec, Harry Julien of Quebec and Jocelyn Julien of Quebec; as well as nieces nephews and extended family, including Marv Theurer of Fayston, Vermont. Noella was predeceased by a daughter, Gina Couture.
Services will be held this spring for family and friends. For those who wish, memorial gifts would be appreciated to Central VT Humane Society, P.O. Box 687, Montpelier, VT 05601. Assisting the family is Perkins-Parker Funeral Home and Cremation Service in Waterbury. To send online condolences please visit us at www.perkinsparker.com and Facebook.