Category: Obituaries
Created on Thursday, 13 February 2014 11:51
Last Updated on Thursday, 13 February 2014 11:51
Published Date
Written by Submitted by family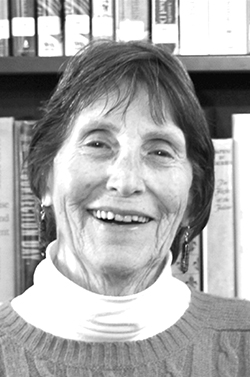 Elizabeth Carolyn Howlett, 87, died on February 7, 2014, at home in Hancock, Vermont.
Elizabeth (Betty) graduated from Hamden Hall Country Day School in 1942 and from Wellesley College in 1946 with a major in chemistry. She worked for Naugatuck Chemical in Naugatuck, Connecticut, for five years, marrying Frank (Bud) Howlett in 1948.
The Howletts moved to Bennington, Vermont, where Betty acted as a teacher substitute, taught skiing at Prospect Hill in Woodford and started a tennis clinic for juniors using the Bennington College courts. They had three daughters at this time.
After moving to the Scranton, Pennsylvania, area Betty received a grant to become a librarian, graduating from Marywood College with a master's in library science in 1968. After another move, to Williamsport, PA, she served as librarian in the Curtin Junior High School for two years.
Another professional move for Bud put the family back in Bennington, where Betty was the librarian at Bennington Free Library for three years. Finally, when Bud bought the Granville Bowl Mill they made a move to Rochester, where Betty was high school librarian for 18 years, also teaching English and Latin.
Upon retirement in 1991, she became librarian at Joslin Memorial Library in Waitsfield and held that position for 16 years, until a back problem forced her retirement.
Throughout her life, Betty was active in sports. She learned to fence at Hamden Hall where Papa Grasson of Yale coached the boys' and girls' teams and had medals to prove her ability as a competitor. As a volunteer in the Bennington School ski program, she developed as an instructor at several ski areas – Prospect Hill in Vermont and Elk Mountain and Oregon Hill in Pennsylvania.
A lifelong tennis enthusiast, she was active in this sport both as instructor and avid player. At summer camp she learned to shoot and earned the 10 bars of the NRA target medal. (NB: She used her .22 rifle only for the marauding woodchucks in her garden). Wellesley College presented her with the athletic blazer for contributing to sports at the college. And a love of riding gave her summers as a riding counselor at Camp Wabasso in Bradford, New Hampshire. She also was a member of the Southbury, Connecticut, Hunt Club, giving that up when marriage indicated a shift in the budget.
Her awards include one from the South Western Teachers Association for an annual project with the school art department; an award from the state of Vermont for a pamphlet on Civil Defense in the home; and, most valued, the Sarah C. Hagar award in 1995 "for outstanding service and significant contribution to the field of Librarianship in Vermont."
She is predeceased by her daughters Betsy Howlett and Polly Howlett and survived by her husband Frank (Bud) Howlett, daughter Amy Howlett and grandchildren Charlie and Laura Hofmann. A memorial service will be held in the spring.
Contributions in her name would be gratefully received by your local library.