Category: Obituaries
Created on Thursday, 20 March 2014 09:51
Last Updated on Thursday, 20 March 2014 09:56
Published Date
Written by Submitted by family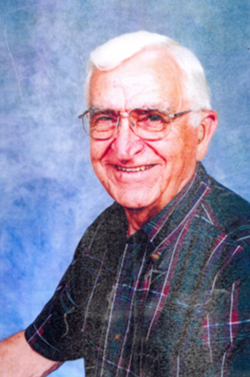 Vernon Jesse Griffith of Fiesta Village, Mission, Texas, and Morris, Minnesota, died Sunday, March 9, 2014, at Mission Rehab Center in Mission, Texas, after a long struggle with Parkinson's disease.
Vern was born in Weathersfield, VT, July 27, 1927, to Willie Dean and Sarah Reynolds Griffith. He graduated from Waitsfield High School in 1945 and went into the Marines. While at Great Lakes Naval Training Center, he met Laila Maki on a blind date and they were married December 7, 1946.
Vern and Laila raised their family in Waukegan, IL. Working at (Jenkins & Boller) Camosy Construction Co., weekend family camping trips and being a Boy Scout leader kept him busy for many years. After becoming empty nesters, they moved to Three Oaks, MI, and traveled around the country in whatever "rig" they had at the time. While visiting friends in Mission, they discovered Fiesta Village and became "winter Texans" in 1983 until their deaths.
So many wonderful friends filled their days with fun, dancing and activities. On July 6, 2003, Laila passed away after a brief battle with cancer. At the urging of friends and family, Vern came back south the following winter. In 2004, Vern was "set up" by his friends and met Elaine Loehr, the second love of his life. Their life in Mission and Morris was filled with dancing, friends and family.
He was preceded in death by his parents; his wife, Laila; brothers, Jesse, Leon and Clayton; and sisters, Christie, Lillian and Doris.
Vern was a quiet, caring man who was always ready to help anyone in need. He will be greatly missed by Elaine; his children, Carol Douglas (Jake Davidson) of Alma, MI, Bill "Dean" Griffith (Bev) of La Porte, IN, and Vernon "David" Griffith (Mary) of Sikeston, MO; his grandchildren, Laila Griffith, Alex Griffith, Ellen (Mitch) Foley; great-grandchildren, Aiden and Wyatt; his special family in Minnesota, Mike and Judy Loehr and Cliff and Linda Hatlestad; and all his friends around the country.
He also leaves his nieces, Betty Ann (Griffith) Libby of Waterbury Center, Cindy (Griffith) Sollace of Middlesex, Noni (Griffith) Augustoni of Vargo, Florida, and a predeceased niece, Michelle (Griffith) Smith, and extended family. Also a forever friend, Rett Wimble of Waitsfield.
His boyhood days were spent in The Valley, first attending school in South Duxbury Elementary and on to Waitsfield High School. He was a very active young fellow, a member of Boy Scouts, and held various class offices in high school while he lived at the Drew Bisbee farm working for his room and board finishing high school.
He was a fun-loving person, always ready for that next adventure whether biking to Montpelier to a matinee or boiling sap down on a hand-built outdoor arch.
His many visits back to The Valley were greatly welcomed by his friends and relatives.