Category: Obituaries
Created on Thursday, 22 May 2014 11:20
Last Updated on Monday, 02 June 2014 16:34
Published Date
Written by Submitted by family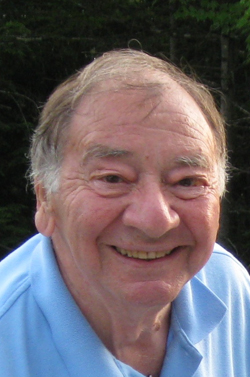 It is with deep sadness that the Basile family announces the passing of their beloved husband and father, John J. Basile Sr. of Waitsfield. John, 82, died peacefully at Fletcher Allen Health Care in Burlington on Friday, May 16, 2014, with his wife Kathleen and son Stephen at his side after a period of declining health due to amyotrophic lateral sclerosis (ALS).
Born in Newark, NJ, on June 27, 1931, John was the son of the late Dominic and Maria Grazia (Iannone) Basile, who emigrated from Satriano, Calabria, Italy, in 1929 with John's two older brothers, Frank and Anthony. John and his younger sister Mary were both born in the United States. He grew up in Belleville, NJ, and graduated from Belleville High School after which he worked briefly before enlisting in the U.S. Marine Corps., stationed at Camp Lejune in North Carolina during the Korean War. Following his discharge from the Marines, John was accepted to Muhlenberg College in Allentown, PA, graduating in 1957 with a bachelor of arts degree.
John began his professional career working in sales, first for the Armstrong Cork Co. and then for the Xerox Corporation with territories that covered parts of New York and New Jersey. While at Xerox, John began attending night classes and eventually earned his MBA from New York University. With a new degree under his belt, he changed career paths, working as an institutional trader first for Goldman Sachs, then F. Eberstadt and Co., and finally for Loeb Partners until his retirement in 1996.
In 1959, during his tenure with Armstrong Cork, John met Kathleen in Bay Head, NJ, where they both spent weekends with friends. They were wed in January 1961 at St. Vincent Ferrer Church in New York City. After learning to ski, a skiing honeymoon and introduction to the Mad River Valley, they decided to build a small ski getaway in Waitsfield in 1965. Their principle residence was in Whippany, NJ. In 1999, they built their present home and became permanent residents in Vermont.
Music was always a part of John's fabric and learning to play the piano was a long-held desire. Retirement allowed him to pursue his musical interests, attending concerts and opera, taking piano lessons from Joan Foster and joining the Mad River Chorale where he sang bass. John very much enjoyed working around his home, building stone walls and wielding a chainsaw in the woods. The Vermont outdoors appealed to him in all ways. His memberships included Valley Rotary Club and St. Patrick Catholic Church in Moretown.
John is survived by his wife of 53 years, Kathleen K. Basile of Waitsfield; their sons, Peter of Crested Butte, CO, Stephen of Waitsfield, Andrew of Austin, TX, and John Jr. of Oakland, CA; his sister, Mary Ariola of Santa Monica, CA; as well as nieces, nephews and extended family. John was predeceased by his two brothers, Frank and Anthony Basile.
A Mass of Christian Burial will be celebrated at Our Lady of the Snows Catholic Church in Waitsfield on Saturday, May 24, 2014, at 11 a.m. The family requests that instead of flowers, memorial gifts be made to UVM ALS Clinic & ALS Research Fund, c/o Joanne Stetson, 149 Beaumont Ave., HSRF 426, Burlington, VT 05405; or to the Vermont Philharmonic, P.O. Box 425, Montpelier, VT 05601. Assisting the family is Perkins-Parker Funeral Home and Cremation Service in Waterbury. To send online condolences, visithttp://www.perkinsparker.com.