Category: Obituaries
Created on Thursday, 22 May 2014 11:21
Last Updated on Thursday, 22 May 2014 11:21
Published Date
Written by Submitted by family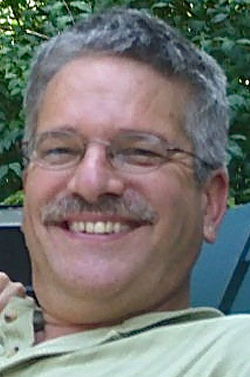 James Ernest Salvatore, 63, of Warren, passed away in the comfort of his home and family on Friday evening, May 16, 2014, following a courageous battle with cancer. Born in Hartford, CT, on August 9, 1950, he was the son of the late Ernest A. and Rita (Gagne) Salvatore. Jim met the former Karen A. Brizee in 1973 and they were married on April 28, 1984, in Warren.
Jim graduated from Mount Anthony Union High School in Bennington and continued his education with a scholarship to Keene State College, majoring in industrial arts. Moving to the Mad River Valley in 1972 to pursue his love for skiing, Jim also began his lifelong vocation as a finish carpenter, founding his own business, James Salvatore Fine Carpentry, in 1985.
Jim enjoyed many outside interests that included being an avid Red Sox fan and a love for gardening, antiques and fine wines. His family lovingly remembers Jim for his ability to make friends with everyone and anyone, his gift for conversation and storytelling and his devotion to his wife Karen and daughter Cara.
Jim is survived by his wife, Karen Salvatore of Warren; their daughter, Cara Salvatore and her companion Jamison Haskins of Waterbury; two sisters, Toni Cleaves and her husband James of McKinney, TX, and Lee Salvatore and her husband Wayne Levi of Fernley, NV; two brothers, Wayne Salvatore and his wife Stella of Monte Sereno, CA, and John Salvatore of Boca Raton, FL; as well as nieces, nephews and extended family.
Friends and family are invited to an open house on May 31, 2014, from 1 to 4 p.m. at 2143 Airport Road in Warren to celebrate and reflect on the life of James Salvatore. For those who wish, memorial gifts would be appreciated to Central Vermont Home Health and Hospice, 600 Granger Road, Barre, VT 05641 (www.cvhhh.org), or to the National Life Cancer Treatment Center, P.O. Box 547, Barre, VT 05641 (www.cvmc.org). Assisting the family is Perkins-Parker Funeral Home and Cremation Service in Waterbury. To send online condolences please visit us at www.perkinsparker.com and Facebook.