Category: Obituaries
Created on Thursday, 05 June 2014 10:51
Last Updated on Thursday, 05 June 2014 10:51
Published Date
Written by Submitted by family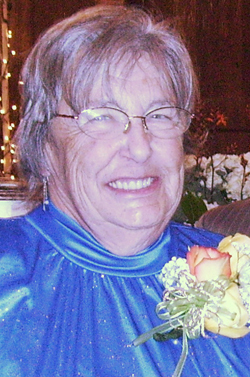 Rita May (Moulton) Badore, 71, of Waitsfield, VT, passed away in the loving attendance of family at the home of her daughter in Lehigh Acres, FL, on the afternoon of May 26, 2014. She was born on April 14, 1943, in Fayston, VT, a child of Francis G. and Ruth E. (Merchant) Moulton.
Rita was known for her staunch advocacy of the Kingdom of God and looked forward to the time when that Kingdom would be revealed "on earth as it is in heaven," where she will be reunited with friends and loved ones. (Matt. 6:9, 10). She was a member of the Moretown Congregation of Jehovah's Witnesses.
She is survived by her adoring husband of 51 years, Robert P. Badore Sr.; her children, Robert (Donna) Badore Jr. of Blind River, Ontario, Canada, Darlene (John) Martin of Lehigh Acres, FL, and William Badore of Yulee, FL: her grandchildren, Beau, Anna, Logan, Ian, Billy and Lucy; her brother, Robert (Faith) Moulton of Williamstown, VT; and her sister, Beverly Brothers, of Fayston, VT.
A memorial service will be held on Saturday, June 14, 2014, at 4 p.m. in the Moretown Kingdom Hall of Jehovah's Witnesses, 298 Vermont Route 100, Moretown, VT 05660-9127.
In lieu of flowers, contributions to the worldwide work of promoting Kingdom interests may be sent to Rita's favorite charity at any local Kingdom Hall of Jehovah's Witnesses. Friends may sign the guestbook at www.horizonfunerals.com.