Category: Obituaries
Created on Thursday, 05 June 2014 10:53
Last Updated on Thursday, 05 June 2014 10:53
Published Date
Written by Submitted by family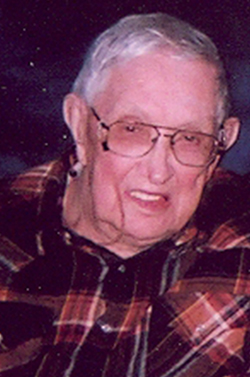 Robert L. Maynard Sr., 87, formerly of Milton, Vermont, passed away peacefully on Sunday morning, May 25, 2014, at Franklin County Rehabilitation Center in St. Albans.
Bob was born December 2, 1926, in Duxbury, the son of Ralph Ernest Maynard and Annie Morse Maynard. Shortly after his birth his mother passed away and his father married Carrie Howes, who to Bob was the only mother that he knew.
He grew up on the family farm in East Warren and later in Moretown. He graduated from Waitsfield High School and from Vermont State School of Agriculture in Randolph Center.
He held several agricultural positions and worked many years at Harbor Industries from which he retired several years after retirement age.
On September 29, 1950, he married Grace Peatman of Fayston who passed away on November 27, 1993. On September 8, 1996, he married Grace Turner of Miltion, who passed away on January 25, 2001. A resident of Milton since 1961, Bob was a member of the United Church of Milton and Arrowhead Seniors. He enjoyed fishing, dancing and playing the harmonica.
Bob is survived by his daughter, Jane Combs of Swanton; three sons, Robert Maynard and wife Yukiko of Williston, Patrick Maynard of Burlington and Frederick Maynard of Hinesburg; grandchildren, Steven Combs Jr. and wife Katina, Tami Dodge and husband Mark, Angela Maguire and husband James, and Sean Maynard; eight great-grandsons; and a brother, Everett Maynard and wife Ella of Moretown. Bob is also survived by the children of his second wife, Grace Turner Maynard, Raymond Turner and wife Lorraine, Ernie Turner and wife Margaret, Donald Turner and wife Nancy, and Ira Turner and wife Sandy, all of Milton.
He was predeceased by his stepbrothers, Howard Howes and Harold Howes; and a sister-in-law, Rachel Howes.
A funeral service was held on Tuesday, May 27, 2014, at Minor Funeral Home in Milton. Burial was held at Mountain View Cemetery in Moretown.
Memorial contributions may be made to AARP Foundation, P.O. Box 93207, Long Beach, CA 90808-3207.