Category: Obituaries
Created on Thursday, 05 June 2014 10:54
Last Updated on Thursday, 05 June 2014 10:54
Published Date
Written by Submitted by family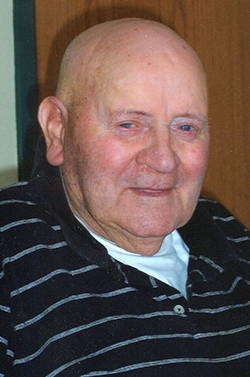 Howard Noble Kenyon, 88, a longtime resident and businessman in Waitsfield, passed away at Woodridge Nursing Home in Berlin on Thursday, May 29, 2014. Born in Richmond on February 25, 1926, he was the son of the late Walter and Agnes (Pecor) Kenyon. On August 15, 1947, in Waitsfield, he married the former Dorothy Burbank, who predeceased him on April 9, 1986. On March 10, 1990, he married the former Katrica Taylor Luce from Warren who predeceased him on December 7, 2013.
Howard attended schools in Jonesville and Waitsfield and then commenced on to what became a multifaceted career. A unique individual, successful entrepreneur and institution in the greater Mad River Valley, Howard began as a dairy farmer and then with the whole herd buyout in 1986, transitioned to beef cattle. Along the way, he also operated a feed store, beginning in Irasville and then at the present location of Kenyon's Variety Store in Waitsfield, that also includes an eclectic variety of goods, tools, hardware, plumbing supplies, fresh beef – essentially, if he didn't carry it, you didn't really need it.
Howard retired in 1998 due to declining health. His memberships included Mad River Lodge #77 F&AM and the Mad River Ridge Runners Snowmobile Club. In his leisure time, he enjoyed traveling to Florida, playing cards and cribbage and riding his four-wheeler around the pasture checking on his precious cows.
Howard is loved and mourned by his children, Joyce Farnsworth of Waterbury, Evelyn Sawyer and her husband, Jackie, of Williamstown, Brenda "Mickey" Eastman of Euharlee, GA, Douglas Kenyon and his wife, Donna, of Waitsfield, and Gary Kenyon and his wife, Dixie, of Waterbury Center; 13 grandchildren, 21 great-grandchildren, which includes a special great-granddaughter, Alyssa Corse; his sisters, Mary Noyes and her husband, Warre, of Moretown, Shirley Foster and her husband, Donald, of Waterbury Center, and Dorothy Wimble of Albany, NY; a special son-in-law, Arnold Eastman Jr. of Moretown; his stepdaughter, Corinne Moulton, and her husband, Brian, of Warren, and their children, Tony Moulton and his husband, Austin, and Lisa Nisen and her husband, George; as well as nieces, nephews and extended family. Howard was predeceased by a brother, Stanley Kenyon; a sister, Verna Mae Heath; and a grandson, David Kenyon.
A service celebrating the life of Howard Kenyon will be held under the tent in Kenyon's field, behind the farm and store, on June 14, 2014, at 1 p.m. with a reception to follow. For those who wish, memorial gifts in lieu of flowers would be appreciated to Woodridge Nursing Home, Patient Activities Fund, P.O. Box 550, Barre, VT 05641, or to the American Heart Association (www.heart.org). Assisting the family is Perkins-Parker Funeral Home and Cremation Service in Waterbury. To send online condolences visit www.perkinsparker.com and Facebook.