Category: Schools
Created on Thursday, 02 February 2012 10:13
Last Updated on Tuesday, 05 June 2012 11:11
Published Date
Written by Anna White (seventh-grade student at HUMS)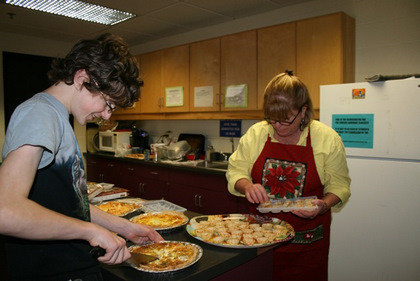 On Thursday, December 23, the seventh-grade French classes taught by Madame Skilton and Monsieur Grace hosted the seventh-grade Spanish and study hall students (along with several of their teachers) in the middle school gym for a delightful French luncheon. They sang, tried new foods and participated in the French Table Manners Contest.
Beginning with the first course, guests were served quiche and escargot cooked in pesto by Madame Skilton (escargot, by the way, are snails!). The second course was salad, the third was pizza and for dessert mousse au chocolat (chocolate mousse). For each course there was a topic to discuss, from cognates to family traditions to what people were doing over vacation.
During the third course, there was the French Table Manners Contest where everyone had to eat with their fork in their left hand. Another French custom is that once you cut a piece of pizza, you have to eat that piece rather than cutting up the whole thing first.
Before they started to eat, several seventh-grade French students including Emily Sinnot, Kathryn Pilliod and Lily Clark taught everyone "Vive le Vent," a French song about the winter wind sung to the tune of "Jingle Bells." Toward the end of lunch Emily, Kathryn and Lily invited everyone else up to sing with them.
Last but certainly not least, there was Cooking with Christian, a huge hit where seventh-grader Christian Torsell explained the history behind the food everyone was eating.
All in all, the French luncheon was fun, festive, and we all got to practice our language skills and learn more about French culture as we enjoyed our delicious meal!