Category: Schools
Created on Thursday, 26 April 2012 10:01
Last Updated on Tuesday, 05 June 2012 11:05
Published Date
Written by VR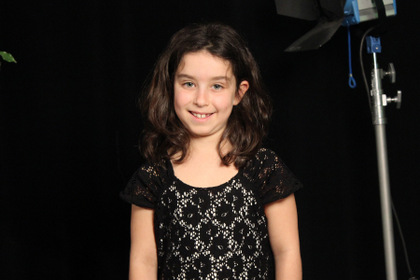 Moretown third-grader Ayla Fidel earned honorable mention for
her story "The Magical Island."
---
Moretown third-grade student Ayla Fidel is among the children honored in this year's Vermont Public Television (VPT) PBS KIDS GO! young writers contest. The educational outreach project encourages youngsters to celebrate the power of writing and illustrating original storybooks.
Fidel earned honorable mention in the second-grade category for her story, "The Magical Island."
Chuck Pizer, VPT's community engagement director, and content assistant Judy Gordon organized the event, which had 198 entries.
Pizer said, "Children are at the heart of VPT's mission. We help them get ready to learn when they're preschool age, and we're with them as they grow. This contest has been a signature event for us for 17 years. It's a treat to honor some of our talented local kids."
VPT provides children, parents and educators with 53 hours a week of PBS programming for kids, along with online and mobile resources and community activities like the contest.
Each grade-winning entry is entered in the national contest. Results will announced this summer. The contest is sponsored by Comcast and ECAC (Employee Community Action Council of the Employees of General Dynamics).
VPT's community partners in the project are Ben & Jerry's, Bennington Free Library, Everybody Wins! Vermont, The Flying Pig Bookstore, Goodrich Memorial Library, Kids VT, St. Albans Free Library, Stern Center for Language and Learning, The Vermont Community Foundation, Vermont Department of Libraries and Vermont Humanities Council.
The winning stories are posted on VPT's website, vpt.org. Children are featured on air and online reading their stories, and all entrants will be invited to read their work at story times held around the state.