Category: Schools
Created on Thursday, 18 October 2012 12:22
Last Updated on Thursday, 18 October 2012 12:45
Published Date
Written by VR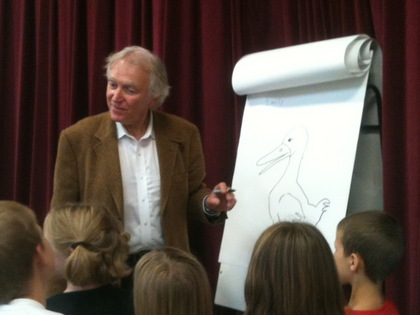 Well-known children's illustrator and author David McPhail wowed the younger grades at Warren and Waitsfield schools last Friday, October 5, as he spoke about his passion for drawing, simultaneously sketching several of his popular characters on an easel. As each character appeared like magic, the children cheered and applauded spontaneously.
Now a hale soft-spoken man in his early 70s, McPhail figures he has illustrated about 175 books, many of which he also authored. When his grandmother gave him a black crayon when he was 2 years old, he promptly used it to draw on the walls of his house. Rather than taking the crayon away, the wise grandmother cut up paper bags to make many different sizes of paper that he could draw on more appropriately. He published his first book, The Bear's Toothache, while he was still in his 20s, and his most recent book, All the Awake Animals, an alphabet/bedtime book, was just published last week. He says he tried retiring a few years ago but got bored and quickly said yes to the first illustration book project offered to him. He's not done yet!
McPhail's illustrations are detailed and cozy. They are full of endearing, expressive talking animals—bears and pigs are particular favorites, though the most recent one is full of all kinds –26, of course! In the several books read to the Valley children, themes of loss and kindness were evident. In Mole Music and Weezer Changes the World, world peace is achieved through the efforts of one individual—the mole violinist and the dog, "Weezer," when a lightning strike ignites his brain. The importance and joys of reading are also emphasized—as a major theme in Edward and the Pirates and more subtly in The Teddy Bear, where a homeless man digs a newspaper out of a trash can.
McPhail was invited to the area because he was the featured author at last weekend's StoryWalk Conference in Montpelier.
A couple years ago, his book about "Weezer" was displayed page by page on posts along the Mad River Path behind Small Dog. As the Waitsfield school librarians have posted many StoryWalks there over four summers, the two Valley schools were the lucky ones to have a visit. Proceeds of book fairs in both schools and a generous donation by the Joslin Memorial Library made his visit possible.
"It was an inspiring and valuable experience for the kids to connect a face and voice to books that they love," Principal Kaiya Korb said.