Category: Sports
Created on Thursday, 24 July 2014 09:58
Last Updated on Friday, 25 July 2014 09:24
Published Date
Written by VR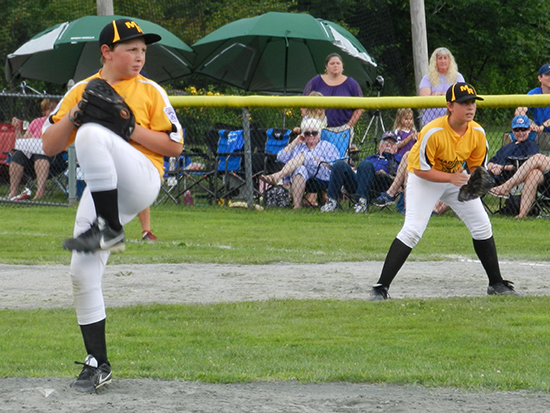 STATE CHAMPIONS
With an authoritative 12-2 win over Brattleboro on Thursday, July 24 the Mad River Valley Little League All Stars have won the Vermont State Championships (10-11 Div)
Mad River Valley All-Stars saw back-to-back wins this weekend as they vied for the title of State Little League Champions in the 10-11 age group.
The tourney, hosted at Couples Club Field in Waitsfield, kicked off Saturday, July 19, with two games: Brattleboro vs. Colchester and Essex Junction vs. Mad River. Two more games followed on Sunday, July 20: Brattleboro vs. Essex Junction and Colchester vs. Mad River.
Coached by John Zimmerman, Doug Mosle and Logan Cooke, with assistance from Mike Kingsbury and Nate Pierce, the Mad River 10-player roster includes Cary Bond-Bardes, Angelo Ciminello, Clyden Heyward, Caleb Kingsbury, Gus Mosle, Anthony Pierce, Skylar Platt, Charlie Reilly, Vincent Spina and Ethan Vierling. The players put in long hours to perfect their team play as well as bat and glove skills in the few weeks leading up to the tournament.
Mad River 13, Essex Junction 7
The Mad River nine took the field against Essex a little after 2 p.m. on Saturday.
Mad River went quietly in the first inning on three groundouts. Caleb Kingsbury was on the hill for Mad River. At the end of the first inning, Essex had a 1-0 lead. Mad River then loaded the bases and tied the game on a passed ball–stolen base by Tony Pierce with Angelo Ciminello at the plate. In a tough bottom of the second, Mad River gave up four runs and came to bat behind, 5-1. After a pitching change, Ethan Vierling retired the side.
In the top of the third, Mad River anointed its new rally cheer of "1-2-3-HITS!" to start the inning and their bats came alive. Gus Mosle led off with a walk and moved over to third following a hit by Vierling. Kingsbury swatted a double, scoring Vierling and Mosle and cutting the deficit to 5-3. After a strikeout by Clyden Heyward, Pierce grounded to short but reached second on a fielding error. Ciminello, Skylar Platt and Cary Bond-Bardes reached base safely, with Pierce and Kingsbury scoring to tie the game with only one out, and Ciminello scoring from third to give Mad River a 6-5 lead. Bond-Bardes stole second and then third on one of those Little League plays that are hard to describe in writing. The inning came to a close when Bond-Bardes scored on a passed ball–strike three with Vincent Spina at the plate, putting Mad River on top, 8-5. The third inning rally by the local nine was highlighted by fearless base running and a few well-placed hits to the outfield.
Platt, who caught the first three innings, came in to pitch in the bottom of the third. He quickly shut down the Essex squad in order on 10 pitches in the third and dismissed them on 25 pitches in the fourth.
The Mad River All-Stars tacked on five more runs in the fourth to bring their lead to 13-5. Steadfast Platt threw just 15 pitches in the fifth and was backed up by solid defensive play in the field.
Mad River 6, Colchester 2
Sunday's game brought Mad River face to face with Colchester, the victor against Brattleboro in the previous day's contest.
Gus Mosle led off the game with a four-pitch walk and advanced to second on a base hit by Ethan Vierling. Caleb Kingsbury was hit by a pitch to load the bases. Clyden Heyward singled to drive in Mosle for the go-ahead run.
Heyward took his place on the hill for Mad River, walking two and giving up a run on a long ground-rule double by a Colchester power hitter. Out number two was a grounder handled by shortstop Vierling. Heyward then struck out the next two batters to retire the side.
In the second, Heyward settled in, mowing down the next six batters on 17 pitches. Mad River scored single runs by Heyward in the second inning to take the lead and another by Tony Pierce to make it 3-1 Mad River after three complete.
In the fourth inning, Mad River retired the Colchester squad on three outstanding plays: a line-drive caught by second bagger Mosle, a heads-up play in foul territory by Skylar Platt and a comebacker to pitcher Heyward.
Heyward turned back Colchester in 11 pitches in the fifth, including an outstanding grab at the hot corner by third baseman Pierce, a bang-bang force out at second and a pop fly to second baseman Mosle.
In the top of the sixth, holding onto a two-run lead, Mad River bats came alive again with hits by Vierling, Pierce and Heyward, scoring three insurance runs, capped by pitcher Heyward helping his own cause by stealing home to make the score 6-1.
Colchester added one in the bottom of the sixth, but Heyward closed out a gem by retiring the side on seven pitches, with a little help from a sound outfield. Vierling made the final putout, catching a popup at short.
Hurler Heyward had a 75-pitch complete outing while Platt called an exceptional game behind the plate.
Mad River faced the winner of Brattleboro versus Colchester on Wednesday, July 23, at 5 p.m. at Couples Club Field. Results were not available at press time, but if Mad River wins, they are crowned state champs. If they don't prevail, they will face Colchester again in winner-take-all action on Thursday, July 24. The team invites you to come to Couples to cheer them on.
The Mad River All-Stars would like to thank tournament umpires Ed Read, Mike Kingsbury and Steve Shaefer as well as Mad River Valley Little League for its wholehearted support.