Category: Sports
Created on Thursday, 19 April 2012 10:14
Last Updated on Tuesday, 05 June 2012 11:33
Published Date
Written by VR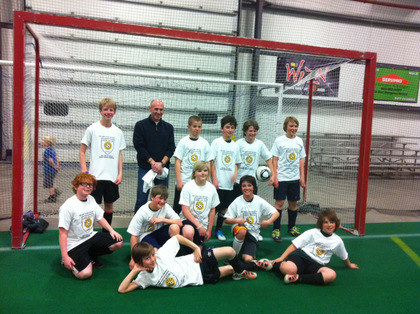 Left to right in front row: Wyatt Adams and Eli Moskowitz. Kneeling in
second row: Marcus Bueti, Will LaPointe, Sawyer Belogia, Rex Rubinstein.
Standing in back row: Eli Brookens, Coach Sam Bueti, Max Hill,
Jack Thomsen, Tyler Skroski and Colden Seaman.
---
On Saturday evening, April 14, the Mad River U-12 soccer team won the 2012 Nordic Indoor Soccer League tournament held at the Champlain Valley Exposition. Each tournament game consisted of one 25-minute period with shoot-outs at the end in case games ended in a draw.
The Mad River U-12 team entered the tournament as the third seed, first needing to beat the team from Williston to advance to the semi-finals.
With two goals in the first five minutes, Mad River was able to control much of the tempo for the remainder of the game and won 2-0. In the semi-finals, Mad River faced the second-seeded Nordic Green team, a team that gave Mad River their only loss earlier in the season.
The highly skilled Green Team and Mad River traded numerous scoring attempts throughout the contest, but it was Jack Thomsen's goal midway through the game that proved the difference, with the U-12 team coming away with a thrilling 1-0 win.
Goalkeeper Tyler Skroski was stellar in the shut out win. The final featured Mad River against the top-seeded team, Nordic White. Both teams battled to a 4-4 draw at the end of league play, and so it was fitting that both teams face each other for the championship. Mad River had the upper hand in the early going resulting in two goals by the 10-minute mark.
Nordic White quickly countered with a nice goal and for the next 10 minutes both teams tested each other with a handful of scoring opportunities.
Goalkeeper Max Hill was especially effective in turning aside three quality scoring chances late in the game. And with less than five minutes remaining, after receiving an excellent centering feed from Eli Brookens, Rex Rubinstein slammed home the insurance goal, leading Mad River to a 3-1 victory and the Nordic League championship.
Throughout the contests, it was Mad River's team defense that provided the difference, yielding only one goal over the three contests.
The Mad River U-12 soccer team roster includes Wyatt Adams, Sawyer Belongia, Eli Brookens, Marcus Bueti, Kyle*****an, Brendan Gildea, Max Hill, Will Lapointe, Mason Lemery, Eli Moskowitz, Rex Rubinstein, Colden Seaman, Tyler Skroski and Jack Thomsen. And best of luck as the team starts what should be an exciting spring outdoor season.