Category: Sports
Created on Thursday, 26 April 2012 09:57
Last Updated on Tuesday, 05 June 2012 11:33
Published Date
Written by VR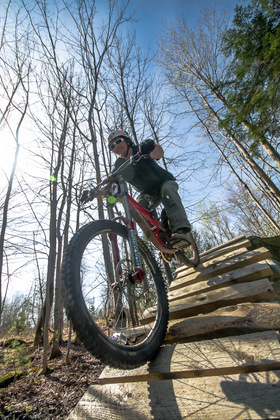 Five miles of beginner and intermediate
mountain bike trails are slated for construction
at Blueberry Lake. Photo: John Atkinson
---
The Mad River Riders and the Vermont Mountain Bike Association are teaming up with the U.S. Forest Service (USFS) to build five miles of new beginner and intermediate trails at Blueberry Lake in East Warren.
Current plans call for two to three seasons to complete the full trail network. When finished, there will be family-friendly trails at a Mad River Valley venue, where people can ride, run, hike, swim, paddle and fish.
The goal for this summer is to get an initial route designed and built. Hardy Avery of Sustainable Trailworks has been chosen to help design the trails, while the Vermont Youth Conservation Corps (VYCC) will lead the trail-building effort. Hardy directed the recent work on the Enchanted Forest and Cyclone Connector trails in Camel's Hump State Forest in Waitsfield.
The USFS is supporting three weeks of Vermont Youth Conservation Corps crew time on the project for 2012. The Winthrop H. Smith Jr. Charitable Foundation and Sugarbush Resort have donated $10,000 to support an additional two weeks of VYCC work this year.
"We share our sincerest gratitude with the USFS, the Winthrop H. Smith Jr. Charitable Foundation and Sugarbush Resort," said Mad River Riders spokesperson John Atkinson.
"This is a great start for the new network, but it is only a start. We need your help to complete the Blueberry Lake Project. Please direct support to Mad River Riders, c/o The Blueberry Lake Project, P. O. Box 1172, Waitsfield, VT 05673," he added.
"The Blueberry Lake Project is the result of over a decade of advocacy and planning by VMBA and the MRR with the USFS. We offer many thanks to former VMBA director Patrick Kell and USFS recreation and trail coordinator Holly Knox for their hard work, vision and support," Atkinson said.