Category: Sports
Created on Thursday, 21 June 2012 11:05
Last Updated on Thursday, 21 June 2012 11:07
Published Date
Written by VR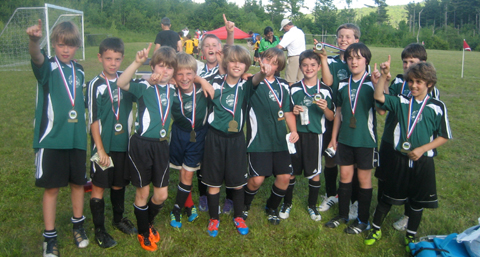 The Mad River U-10 soccer team won the Green Mountain Challenge soccer tournament this past weekend at the Stratton Mountain Resort in Winhall, Vermont. The tournament featured teams from all over New England and New York. The U-10 accumulated the highest point total in a round robin format having won three games and drawing one over two days. Winners of the Silver division, the MadRiver team won both matches on Saturday, 5-1 and 3-0, putting themselves in contention for the top prize. Brian Gilhuly's hat trick in game one and stellar team defense in game two were highlights in the first day of competition.
Leading their division going into day two, MadRiver played the second-place team to a 0-0 draw but had the edge in play for much of the game. To capture the tournament, MadRiver would need a decisive victory in its fourth and final game. Behind balanced scoring, excellent midfield passing and steady goalkeeping, the U-10 team dominated the host team, 7-1, and ultimately won the overall crown. Kudos to coaches Michael Ketchel and Sarah Despres for keeping the team well-prepared for a long weekend of competition. Overall, MadRiver outscored its opponents 15-2 in an impressive display of teamwork and effort.