Category: Sports
Created on Thursday, 30 August 2012 09:45
Last Updated on Thursday, 30 August 2012 16:45
Published Date
Written by Rachel Goff
People have been playing Ultimate Frisbee pick-up games in The Valley for more than 20 years, but last Saturday, August 25, the fields behind Warren Elementary School hosted the second annual Mad Hatter Tournament, in which people from outside The Valley were invited to come toss a disc in the name of fundraising and a little friendly competition.
Players register for hat tournaments individually and teams are picked randomly from a hat the morning of the tournament. In this way, people of all ages and abilities get to play with people they've never played with before and an already community-oriented event widens its scope.
Indeed, the Mad Hatter Tournament "is a great way to catch up with old friends, as well as meet new ones," said Andy McIntosh, one of the event's organizers. "It's also a great way to learn more about competitive ultimate because there's always someone more experienced on your team to learn from."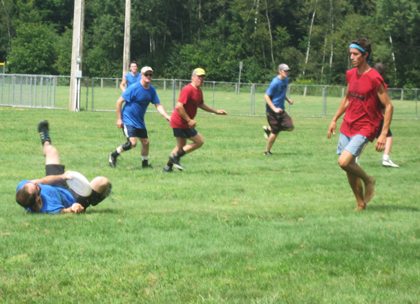 Although the term "random" may have been called into question when making the teams for the most recent Mad Hatter Tournament, any intervention in the team-making process ensured that all of the groups were evenly matched, which made for exciting games.
According to Bob Meany, another of the event's organizers, his favorite part about Ultimate Frisbee is that "it offers an alternative to the 'winning is everything' mentality of most other sports," he said. "Anyone who has played this sport knows that it is tremendously physically demanding," Meany explained, "and all the effort an individual puts out is only successful if it's in conjunction with his or her team."
While the tournament is over, players in The Valley will continue to work together as teammates at pick-up games, which take place every Monday at 6 p.m. on Brooks Field at the Warren Elementary School, as well as every Thursday at 12 p.m. on Flemer Green in Waitsfield Village. Those of all ages and ability levels are welcome to join.
All proceeds from the Mad Hatter Tournament will benefit the Peoples Health and Wellness Clinic in Barre which provides health care for uninsured adults.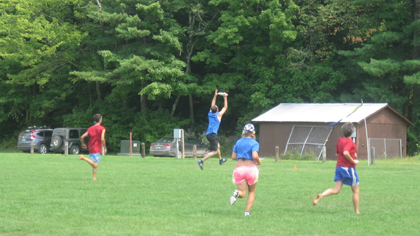 Photos by Rachel Goff