Category: Sports
Created on Thursday, 29 November 2012 09:34
Last Updated on Thursday, 29 November 2012 10:09
Published Date
Written by VR
The second annual Mad River Valley Turkey Trot attracted over 175 runners. The event is a fundraiser for the Warren Elementary School PTO.
"This is a big increase from last year when we were thrilled to have 100 runners at our first event. We were fortunate to have many local sponsors, allowing us to offer a T-shirt and goody bag to those that pre-registered," said school principal Wendy Cobb.
The sponsors included The Warren Store, Sugarbush and the Greshins, Jamieson Insurance, the Mad Marathon, Miller Realty Group, Sugar Lodge, Butternut Systems, Deerfield Designs, The Hyde Away, Bridge Street Butchery, East Warren Community Market, Mad River Glen, Seventh Generation and Green Mountain Coffee Roasters.
"We were able to raise approximately $2,000, which helps fund programs at the Warren School, such as our artist in residence and scholarships," she said.
Runners came from all over and included a mix of local residents and those visiting from out of town.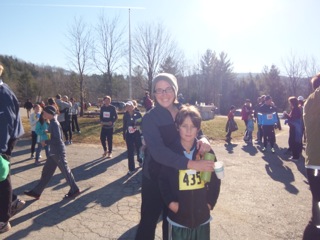 "The event could not have happened without all of the great volunteers helping with registration and cheering on our runners. We even had some students from GMVS come out and help! It was definitely a community effort. We are already making plans to improve the event for next year," Cobb added.
See more photos on the school's website, warrenschool.org.
Winners:
Women: First, Amy Kretz, Warren; second, Misa Lindberg, unknown; third, Susie Lowe, Waitsfield.
Men: First, Graham Lott, unknown; second, Nick Cosentino, Mad River Valley; third, Rob Gilfeather, unknown.
Children 12 and Under: First, Doyle Connelly, unknown; second, Erin Magill, unknown; third, Rex Rubinstein, Warren.