Category: Sports
Created on Thursday, 24 January 2013 10:00
Last Updated on Thursday, 24 January 2013 10:00
Published Date
Written by VR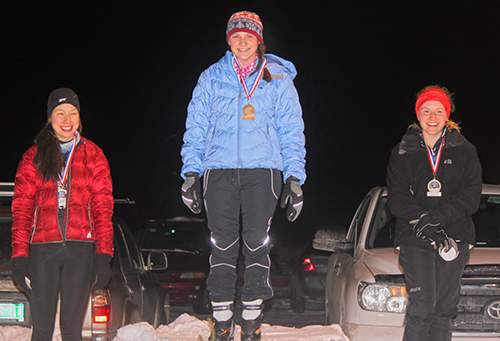 Harwood's diva Liza Hill sang the national anthem. Instrumental instructor Chris Rivers' set warmed the freezing environment with a blistering trumpet solo and Lt. Governor Phil Scott fired the starter's pistol and the very first Waterbury Winter Fest was under way under the lights at Dac Rowe Field late last Friday afternoon, January 18.
The Harwood Nordic ski team was asked to kick off the Winter Fest by hosting their high school ski race at Dac Rowe Field. Harwood sophomore Nathanael Kuzio added drama by battling neck and neck on the 5k groomed skating loop with his friend (U-32 senior Ben Merrylees).
The two went shoulder to shoulder the entire distance. On several occasions they brushed skis. The race came down to one final blast on the last straightaway. Kuzio held a slim lead, but the more experienced Merrylees used his muscular frame to nip the younger more graceful skier from Harwood. Harwood skier Brennan Degen also had a great race by battling back from a poor start to finish sixth.
There were constant shouts of encouragement by the 200-plus spectators who lined the serpentine loop at Dac Rowe. Spectators cheered all finishers and were treated to the flashiness of the Nordic skate technique.
The girls' race was equally as thrilling as Harwood juniors Grace Butler and India Harvey sandwiched Colleen McGovern from Stowe. Heading toward the final turn Harwood's Butler held a slight lead over the spunky skier from Stowe. McGovern was able to edge Butler at the finish with India Harvey nipping at the ski tails of her teammate.
It was an awesome showing for the three athletes who train together at Trapp's with the VTXC program.
The top JVs for Harwood were Nina Cavender (7) in the girls' JV and Jack Barnett (3) in the boys' JV.
Harwood Middle School girls had a great finish with Madeline Strasser (2), Phoebe Sweet (3), Anneka Williams (7) and Alison Yandow (8).
Harwood middle level boys were represented with strong finishes by Noah Eckstein (5), Finn Sweet (7) and Tyler Skroski (9).