Category: Sports
Created on Thursday, 21 February 2013 10:14
Last Updated on Thursday, 21 February 2013 10:14
Published Date
Written by VR

Harwood senior wrestler celebrated
JV wrestlers place at state championship
Harwood senior Kyle Streeter was celebrated at his final high school dual meet at Harwood Union High School on February 5 in front of a crowd of community members, teachers and fellow students. Streeter wrestled undefeated for the 2012-13 season, with a 40-0 record and is ranked first in Vermont at 220 pounds going into the state championships set for February 22 and 23 at Vergennes High School. Streeter's career record to date is 129-26.
In a short ceremony before the dual, coach Brian Wagner commended Streeter, describing him as an always-smiling role model. "Kyle is an absolutely excellent wrestler who always works hard and wrestles with modesty. He will be missed next year," said Wagner.
Harwood hosted Burr & Burton Academy, Otter Valley Union High School and Mill River High School at the February 5 meet.
Harwood wrestlers place at JV state championships
The Junior Varsity State Wrestling Championships were held on Saturday, February 16, at Spaulding High School in Barre. Harwood wrestler David Howes placed second at 132 pounds. Travis Streeter placed third at 138 pounds. Ronnie Gilman took fourth at 285 pounds and Kyle Jasinski earned sixth at 126 pounds. Also wrestling were Cam Clark, Kyle Farnham and Brandon Hamilton. All the Harwood wrestlers who participated in the JV state championship are freshmen.
The Harwood wrestling team will be competing at the varsity level at the Vermont State Wrestling Championships on February 22 and 23 in Vergennes.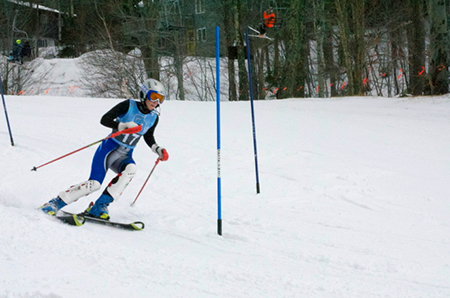 Harwood Alpine teams take top honors
By Steve Skilton
On Thursday, February 14, the Harwood Union alpine ski team hosted a two-run giant slalom at Mt. Ellen. Home hill advantage proved to be key for the Harwood skiers as the Harwood girls' team placed first, with the Harwood boys second in a field of four teams.
Callie Anderson, 2nd, Sarah Wry, 3rd, Mercedes Woolley, 4th, and Sophie Dasaro, 6th, all skied two solid runs to capture top honors for the team. The girls' team depth this season showed strong with Amy Graham, 11th, Maddie Lowe, 12th, Ashley McNeish, 14th, Isabella Harris, 17th, and Anna Belongia, 21st.
The Harwood boys' team had an equally successful day. Hobey Weston, 3rd, Alec McGlynn, 6th, John Egan, 8th, Matt Crowell, 10th, Malcolm Purinton, 22nd, and Asah Whalen, 30th, gave the Harwood boys a solid performance to finish second only to a strong CVU team.
"The Harwood team is grateful to both Green Mountain Valley School and Sugarbush for rescheduling this race into a very busy race schedule on the mountain. We are fortunate to work with two such great organizations that promote the sport for our local teams," coach Steve Skilton noted.
On Friday, February 15, the teams competed at Mad River Glen in a two-run slalom. This time the Harwood boys took top honors, with the Harwood girls' team second in a field of five teams.
Hobey Weston, second overall, skied two great runs to pace the team to their first team win of the season. Alec McGlynn, 4th, Matt Crowell, 7th, John Eagan, 11th, Ben Friedman, 17th, Malcolm Purinton, 27th, and Asah Whalen, 46th, all put together two solid runs for the team this day.
Amy Graham, 6th, led the Harwood girls' team, with teammates Sarah Wry, 7th, Ashley Mcneish, 12th, Isabella Harris, 13th, Molly O'Shea, 20th, Anna Belongia, 24th, and Callie Anderson, 27th.
"The Harwood ski team is also grateful to Mad River Glen for rescheduling this meet as well. It has been a season of ups and downs for ski racing and the team appreciates the efforts made on the behalf of high school racing," Skilton said.
The teams compete Thursday at Cochran's in the final regular season meet of the season. The district meets will follow the next week at Lincoln Peak.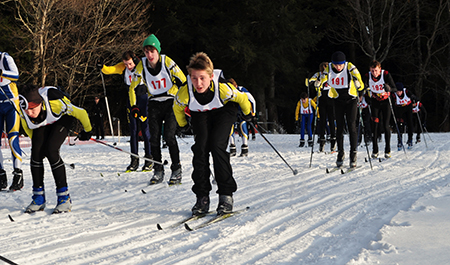 Harwood Nordic has sweet results at home Valentine's Day meet
Harwood Nordic hosted its first and only meet of the season on the trails of the Highlander Nordic center on Thursday, February 14.
On this Valentine's Day, Harwood Nordic skiers and supporters shared their love of the winter sport with three schools. BFA-St. Albans, Essex and Montpelier high schools all made the trip to the South Duxbury campus. "My fellow coaches who made the trip south on I-89 were very surprised with the excellent snow conditions. Chittenden and Franklin County have not had measurable snow for weeks," said coach John Kerrigan.
"Fortunately, Tom (Tom Strasser – Nordic co-head coach) and I were able to groom out a very skiable surface despite the previous series of thaws and deep freezes," he said.
The course was very spectator friendly. There was a large loop in the field and then skiers disappeared into the deep woods for a short time before they reappeared in full view of the spectators on the athletic fields. Skiers kick skied up the hill leading to the upper soccer field, only inches away from the cheering throng of spectators!
Harwood ski techs (Strasser and Kurt Hekeler) nailed the wax and all HU skiers had good kick and excellent glide over the 5 kilometer race.
Harwood sophomore Nathanael Kuzio, fresh from his impressive performance at the J2 qualifier, blazed the 5k course in 12:46 to best the rest of the field by two minutes. He was followed by Brennan Degen in 5th, upstart freshman Phillip Hekeler in 8th, Caleb Kessler in 12th and team co-captain Marcus Helmken 13th. Sam Nishi, 19th, and senior co-captain, 22nd, demonstrated the Harwood Nordic depth.
"This was Mathew's last ever race at home. It looks like he saved his best for last," said coach Kerrigan. Harwood placed second in the four-team field but had the fastest average team time by over 20 seconds.
Highlander girls were even more impressive. Grace Butler, first, and India Harvey, second, took the rest of the competitors on a personal racing tour of the Harwood Nordic center. Grace Butler won the race by over one minute. Greatly improved classic skier Paige Gaylord was an impressive 11th. "I always have been impressed with Paige's freestyle technique, but her classic was excellent today," said coach Kerrigan.
Harwood's best technical classic skier, Ellie Ramsey, was 16th. She was followed by teammates Alice Woodruff (20) and rookie skier Marla Davidson (21). The Harwood juniors battled back and forth the entire race. Alice and Marla were closely followed by Harwood senior Kayla O'Toole as she skied in her last race for coach Kerrigan.
The Harwood girls' average time was 9 seconds faster than all other teams.
Harwood JV skiers were also impressive. Rwanda-bound Molly Ferguson was the top Harwood JV girl finishing 7th. Molly was closely followed by Lauren Alexander, 10th, and rookie skier Claire Brundage, 11th.
The JV boys' race was won by Harwood's Ethan Carr. The Harwood junior skier has captured numerous awards for his academic abilities. "Ethan is becoming as skilled in skiing as he is at solving complex math problems. It gave me great joy to see him cross the finish line first today," said Kerrigan. Carr was followed by first-year skier RJ Hommel, second, Connor Delaney, fifth, and Ray Parker, sixth.
Harwood Nordic skiers are back in action on Thursday, February 21, at the Vermont State Skating Championships in Craftsbury. The state classical championships will take place at Prospect Mountain in Bennington on February 26.