Category: Sports
Created on Thursday, 28 March 2013 10:10
Last Updated on Thursday, 28 March 2013 10:10
Published Date
Written by VR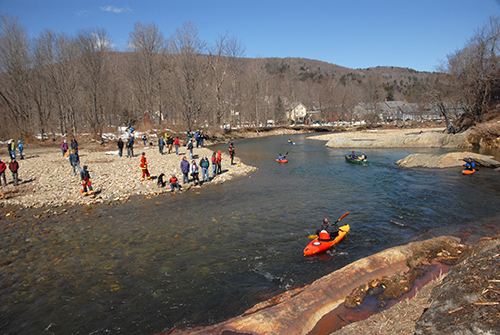 The 36th running of the Mad Triathlon, formerly called the Sugarbush Adventure Games, takes place on Saturday, May 11, at Sugarbush's Lincoln Peak. It's that end-of-winter race that features challenges for iron athletes and team spirit for relay participants. It includes running, paddling, cycling and (often) Nordic skiing. Last year it was renamed the Mad Triathlon, the course was revamped to marathon distance and Sugarbush partnered with Dori Ingalls, the creator of the Mad Marathon, to move the games to May. It's a more traditional triathlon now, although the Mad Tri still has four legs instead of three, a throwback to the early days when Rob Center started the event.
The Mad Triathlon begins at 9 a.m. on Saturday, May 11, at Sugarbush's Lincoln Peak base area and also ends there. The Mad Tri features its traditional four legs: road run for 7.2 miles, paddle for 6 miles, pedal for 10 miles, and ends with an on-mountain 3-mile trail run. The 26.2- mile course weaves its way through the towns of Warren, Waitsfield and Fayston.
Clearwater Sports, Route 100, Waitsfield, is offering a paddling race clinic for participants on Friday, May 10, from 10:30 a.m. to 1:30 p.m. Participants should meet at Clearwater Sports at 10 a.m. These river running and safety clinics will feature dryland discussions and then a paddle down the race course to familiarize participants with the river.
The kayak and canoe clinics will include instruction in paddle strokes, boat control and safety techniques. Attention will be focused on the concept of reading the river and finding the best channels to run. All levels are welcome. Clearwater Sports will provide free shuttle service with any boat rental on the day of the race. PFD rentals are also available. Advanced reservations are required. Call Clearwater Sports at (802) 496-2708 to make reservations.
On Saturday, May 11, at Lincoln Peak Kyle's Park, children can compete in the Kids Triathlon. Hosted by Sugarbush Resort, the Kids Tri event will consist of a mud run and obstacle course and includes a local school challenge. Registration is from 10:30 a.m. to noon upstairs in the Gate House Lodge. The Kids Tri starts right after the Mad Triathlon at 12:30 p.m. The winning school will be awarded a plaque which they can hang at their school. Fayston School won in both 2011 and 2012. The Kids Triathlon is sponsored by Sugarbush, Mad River Path Association, Clearwater and Open Hearth.
Historically, the Mad Triathlon has boasted a celebration befitting the change of seasons that the race symbolizes. The tradition continues this year with the Mad Tri Party from noon to 3 p.m. with live music, barbecue and an awards ceremony. Awards are for the first, second and third place in each race class. Additional awards honor the fastest time for both men and women in the road run, boat, bike and trail run sections. The party takes place at Castlerock Pub and features music by the Phineas Gage Project.
To register for the race go to www.active.com (please note that online registration will close on May 9, 2013, at 11:59 p.m. EST or when the race is full). Download a registration form and mail to: Mad Tri, P.O. Box 28, Waitsfield, VT 05673. Entries must be postmarked no later than May 6, 2013, and there are no refunds due to Mother Nature. Times and logistics on Saturday, May 11, are as follows:
7 to 8:15 a.m.: Race packet pickup, upstairs at Gate House Lodge;
8:45 a.m.: Racer meeting in front of The Schoolhouse;
9 a.m.: Race start in front of The Schoolhouse
• 9 a.m. Iron
• 9:05 a.m. Kayak teams
• 9:10 a.m. Canoe teams
Since the start is so early, packets may be picked up on Friday, May 10, from 4 to 7 p.m. in The Schoolhouse at Lincoln Peak or Saturday morning before the race. Competitors may unload equipment along the course prior to picking up their race packet on Saturday morning. An hour is suggested for equipment drop-off. Kayaks/canoes can be unloaded at Lareau swimming hole with racers parking in the American Flatbread parking lot on the other side of Route 100. Volunteers will be present starting at 7 a.m. to help unload gear. Bikes can be dropped off at Turner field with parking on the side of Route 100N. Volunteers will be present at 7 a.m. to help unload gear. 
To volunteer or with questions regarding the Mad Tri, contact Dori Ingalls, race director, This email address is being protected from spambots. You need JavaScript enabled to view it..