Category: Sports
Created on Thursday, 09 May 2013 10:37
Last Updated on Thursday, 09 May 2013 12:37
Published Date
Written by VR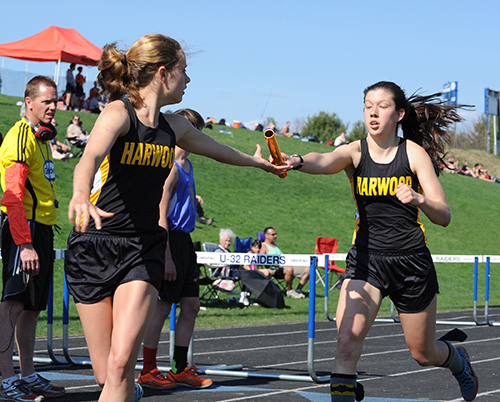 Baseball
Harwood's baseball team beat U-32 16-1 on May 7, giving coach Mitch Casey his 100th varsity win.
Softball
Harwood girls' beat U-32 22-4 on May 7.
Sammie Stohler allowed seven hits and struck out nine in a game against Randolph on May 4. Harwood senior Emily Reagan had two hits, one a double. Rachel Johnson struck out eight and gave up three hits for Randolph. Final score, Harwood 2, Randolph 1.
Boys' lacrosse
On May 4, Harwood lost to Lamoille 3-9.
Girls' lacrosse
Harwood girls' lacrosse overpowered Green Mountain Valley School on May 6 with a final score of 17-7.
Harwood's Michaela O'Brien contributed 10 goals, Kayla O'Toole scored three goals, Kylee Williams added two goals and two assists and Tyler Yandow had six assists. Emily Vasseur made eight stops for the winning team.
GMVS' Lainey Curtis had two goals and Becca Ryan made 15 stops.
In a May 4 contest against U-32, Maggie LaGue scored six for U-32 in a win over Harwood. U-32's Nicole Lavigne had four goals, Cilla Wanzer had three, and Lindsay Braun scored twice for U-32. Michaela O'Brien had four goals for Harwood. Final score, U-32 18, Harwood 7.
On Thursday, May 2, Harwood girls' lacrosse team lost to Rice 20-7.
Boys' golf
Harwood boys' golf team traveled to Copley Country Club on May 6 for a match with Montpelier, Peoples and Northfield.
Team scores were Montpelier 177, Harwood 178, Peoples 187 and Northfield 200.
For Harwood Erik Bertalan scored 36, Jarek Hammeri 44, Willy MacGowan 48, Dan Schein 50, Tommy Maloney 51 and Zach Miles 53.
Girls' golf
Harwood girls' golf team also traveled to Copley Country Club on May 6. Team scores were Harwood 97, Northfield 124.Medalist for the day was Harwood's Mandy Milne with 44. Becca Hamel scored 53 and Kianna Haskin hit a 54 for Harwood.
Tennis
Harwood boys' tennis lost 4-3 to Rice. This was their first loss in seven matches, and the team's record currently stands at 6-2. Harwood girls' tennis lost 4-3 to BFA.
The Harwood girls' tennis team traveled to BFA-St. Albans on May 6 and lost to BFA-St. Albans by 1.
In singles matches Harwood's Ally Behn, defeated Ciara Bannister, BFA, 6-0, 6-1; Chase Fortier, Harwood, defeated Dianne Benedicto, BFA, 6-2, 6-4; Shelby Parette, Harwood, defeated Summer Averill, BFA, 6-3 ,6-3; Cate Beattie, BFA, defeated Jenna Golden, Harwood, 4-6, 6-3, 10-8; Lindsey Lowell, BFA, defeated Grace Hurwitz, Harwood, 6-2, 6-0.
In doubles matches Danielle Arel and Gina Neidig, BFA, defeated Mallory Wright and Meagan Meaney, Harwood, 7-6 (5), 1-6, 12-10; Mikayla Messier and Jana Somero, BFA, defeated Maddie McGeorge and Sarah Wright, Harwood, 6-1 ,6-3.