Category: Sports
Created on Thursday, 12 September 2013 11:01
Last Updated on Thursday, 12 September 2013 11:03
Published Date
Written by VR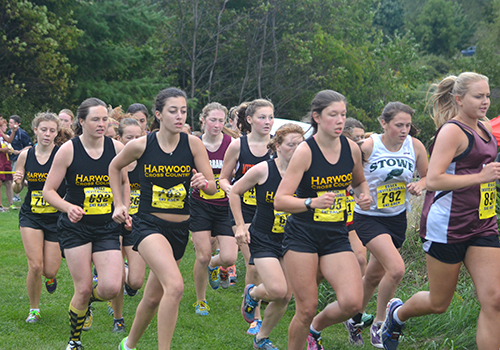 Harwood Union boys' and girls' cross-country teams rocketed toward the finish line in their first race of the fall season: the Essex Cross-Country Invitational at the Catamount Family Center in Williston on Saturday, September 7.
The Harwood Union girls' varsity team proved they are out to defend their four straight Division II State Championships, finishing first and defeating their closest competitors by over 30 points.
Harwood's Marla Davidson took charge at the start of the race, but in the end it was Harwood's Ellie Ramsey who finished first. Ramsey passed the gutsy Davidson on the last downhill, and the two were closely followed by teammates India Harvey (3rd) Grace Butler (4th), Alice Woodruff (9th), Charlotte Boyden (11th) and Sophie Dasaro (14th).
"Sweeping the top four spots in a race field of this quality is truly amazing," Harwood Union cross-country coach John Kerrigan said after the race. "I was especially proud of Marla for setting the pace. Also Sophie had a great run for her first cross-country race ever. It is going to be a great season."
Harwood boys' varsity team was equally impressive, choosing to run with the larger Division I schools despite their Division II status and finishing a close second to South Burlington, the defending Division I State Champions.
Harwood's Sam Nishi battled South Burlington and Mali, Africa, native Sidi Abdoulaye the entire race, until a hard week of running the hills of South Duxbury finally caught up with the younger Nishi and Abdoulaye left him on the last downhill. Nishi was followed by teammates Geoffrey Kazlow (6th), Nathanael Kuzio (10th), Caleb Kessler (11th), Nathaniel Kazlow (19th), Jacob Palmerio (25th) and Nathaniel Palmerio (56th).
"I was surprised we did that well," Kerrigan said. "We have done very little speed training and I thought the boys would be a little tired going into this race. We have been running hills all week."
"We see South Burlington next weekend," Kerrigan said. "It will be interesting to see how [we] match up with a week of less intense training behind [us]."
Harwood also had some impressive finishers in the junior varsity races. Freshmen Lily Clark (54) and Madeline Strasser (81) impressed Coach Kerrigan in their first efforts in a high school race, and Noah Evans (22), Colin Fennelly (52), Eli Winters (71) and Enzo Cormier (80) finished in the top 100 in the over-200-runner field.
Harwood cross-country teams will travel to North Beach on Saturday, September 14, for the Burlington High School Invitational.